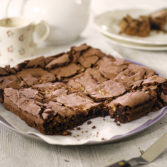 Chocolate brownies
Today is International Chocolate Day. Try these family-friendly brownie bites.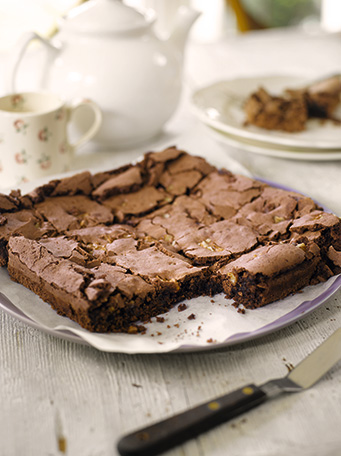 Ingredients
75 g dried pitted prunes
75 g Flora 100% Natural Ingredients
200 g golden caster sugar
2 tbsp golden syrup
1 tsp vanilla essence
175 g plain flour
25 g cocoa powder
1 level tsp baking powder
100 ml soya milk
50 g vegan dark chocolate, roughly chopped
Instructions
1
Preheat oven to 180° C, 160° C fan, Gas mark 4.
2
Place prunes in a heatproof bowl, pour over 5 tablespoons of boiling water and leave to stand for 15 – 20 minutes.
3
Liquidise the prune mixture using a hand blender until smooth and pour into a large mixing bowl.
4
Sieve the flour into a bowl, then add the remaining ingredients, except the vegan chocolate, and mix well together.
5
Stir through half of the chocolate then spoon the mixture into a greased and lined 20cm square tin.
6
Sprinkle the remaining chopped chocolate over the top and bake in preheated oven for 30 minutes until well risen.
7
Check to see if your cake is cooked by inserting a skewer into the centre of each half.
8
If it comes out clean, leave the cakes in the tins for 5 minutes before turning out and cooling on a wire rack. Cut into 16 squares
Lara Balsam