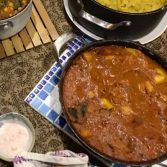 Potato and Aubergine Curry
This curry base can be used with your preferred combination of veggies, my favourite is Potato and Aubergine so I've written the recipe out for this.
Author: Dan Jacobs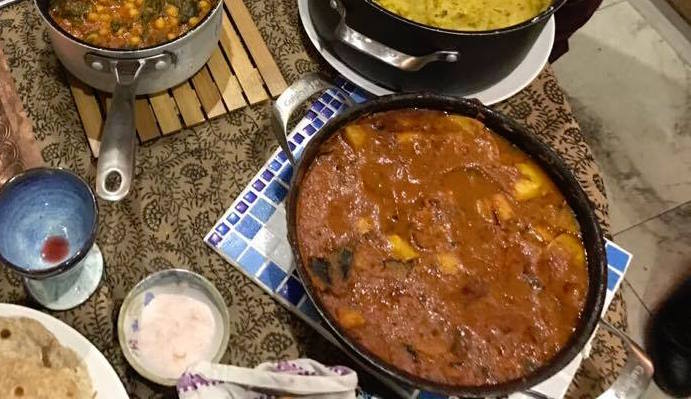 Ingredients
1 large onion
6 g chopped fresh ginger root
15 g crushed garlic
2 pinches ground cinnamon
2 pinches ground black pepper
10 g ground coriander
10 g ground cumin
2 large pinches ground turmeric
2 large pinches cayenne pepper
1 can chopped tomatoes (400ml)
2 red chile peppers, seeded
25 g fresh coriander
100 ml Olive Oil
4 x large potatoes cubed
1 x medium aubergine, cubed
250ml Water
Instructions
1
Heat oil in a small pan medium high heat. Add onion and saute until very brown, 10 to 15 minutes.
2
Add ginger and garlic to onion and saute for an additional 2 minutes. Process onion/ginger/garlic mixture in food processor until smooth.
3
Place onion mixture in a large saucepan. Stir in the cinnamon, black pepper, coriander, cumin, turmeric and cayenne pepper and cook over low heat until mixture is thick and has the consistency of a paste.
4
Puree chopped tomatoes, chile peppers and fresh coriander in food processor until smooth. Add to onion mixture and stir well over low heat, cooking off moisture from tomatoes. Add olive oil a little bit at a time, stirring constantly.
5
Blend the whole mixture in food processor to puree it (for a very smooth sauce). Return to saucepan, add water as needed and increase heat to high; bring sauce to a boil.
6
Reduce heat and simmer for 15 mins
7
Whilst the sauce is simmering, shallow fry the aubergines cubes in plenty of olive oil until nicely brown. Then par boil the potato cubes until they start to soften.
8
Add the potatoes and aubergine to the curry sauce and stir in thoroughly, leave simmering for another 15-20 mins with a lid of, stir occasionally and add water if needed.
jvs