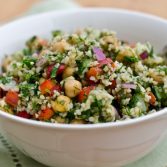 Tu B'shvat: Bulgur salad with cucumbers, red peppers, chickpeas, lemon & dill
Made with bulgur, fresh herbs, chopped vegetables and buttery chickpeas, this Middle Eastern-style salad is like a bulked-up tabbouleh. I like to make it over the weekend and keep it in the fridge all week long for healthy lunches. If you're unfamiliar with bulgur, it's a chewy and nutty-tasting Middle Eastern grain made from whole wheat kernels that have been parboiled, dried and cracked. In addition to being delicious, it's super healthy — high in fibre and protein, rich in vitamins and minerals and low in fat and calories. You can find it in most supermarkets near the pasta, rice or hot cereal, and some stores (like Whole Foods) also carry it in bulk bins.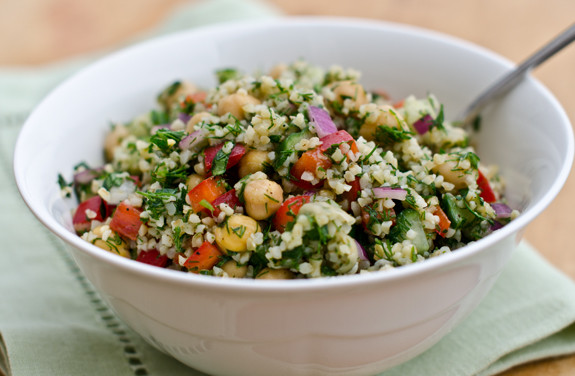 Ingredients
1 cup bulgur or light bulgur
1-1/2 teaspoons salt, divided
1/3 cup diced red onion
1 red bell pepper, diced
1 small English (or hothouse) cucumber, seeded and diced
1/2 cup finely chopped fresh dill
1/3 cup finely chopped fresh parsley
1 can chickpeas, drained and rinsed
1/4 cup fresh lemon juice, from 1-2 lemons
1/4 cup extra virgin olive oil
1 large garlic clove, finely minced
1/2 teaspoon freshly ground black pepper
1 teaspoon cumin
1 teaspoon sugar
Instructions
1
To begin, prepare the bulgur wheat. Since it's already partially cooked, all you have to do is place it in a bowl with boiling water, cover it with plastic wrap and let it steam for 30 minutes, or until all of the water is absorbed.
In the meantime, prepare the vegetables and herbs.
2
I like to soak the red onions in cold water to remove the raw onion taste. This is totally optional — if you like raw onions, skip this step.
3
Fluff up the cooked bulgur with a fork…
4
Then combine it with the vegetables, herbs, chickpeas and spices.
5
Add the freshly squeezed lemon juice and olive oil. Then toss to combine, season to taste and serve.
jvs