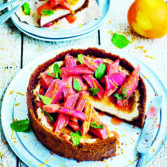 New York-style baked coconut & vanilla "cheesecake"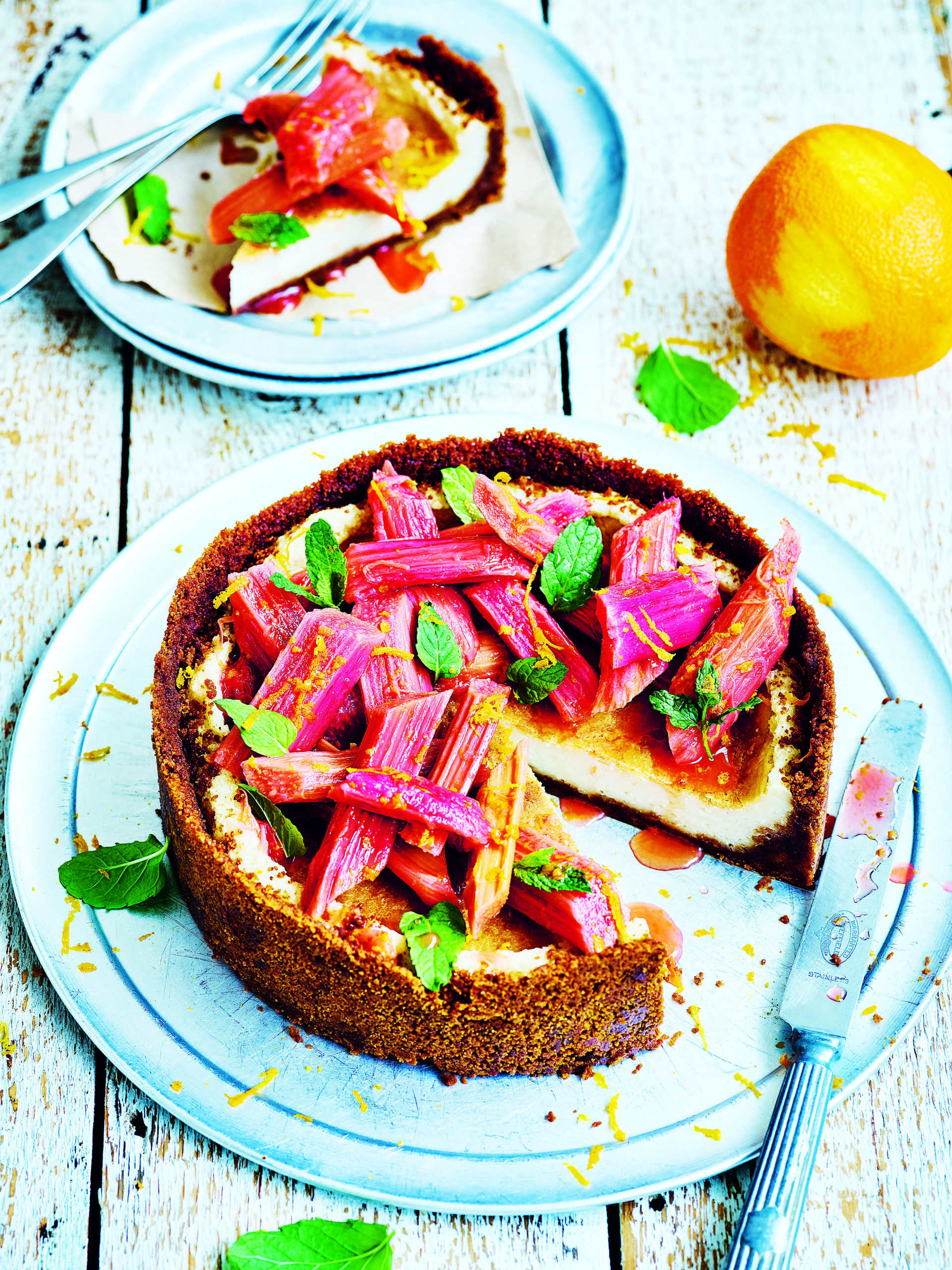 Ingredients
fresh mint, to decorate
For the base:
300 g Lotus Biscoff biscuits
160 g (2/3 cup) vegan "butter", melted
3 tbsp coconut oil, melted
For the filling:
65 g (1/2 cup) almond flour (ground almonds)
360 g vegan "cream cheese"
1 x 400 ml (14 oz) can coconut milk
200 g (1 cup) unrefined caster (granulated) sugar
5 tbsp plain (all-purpose) flour
3 tbsp cornflour (aka cornstarch)
2 tsp vanilla extract
For the stewed rhubarb:
4 sticks of rhubarb, chopped
juice and zest of 1 orange
120 ml (1/2 cup) water
4 tbsp agave nectar
Instructions
1
Preheat the oven to 170˚C (340˚F). Lightly grease a loose-bottom cake tin approximately 23 cm (9 inches) in diameter and 7.5–10 cm (3 – 4 inches) deep.
2
First make the base. Blitz the Biscoff biscuits in a blender until they are a fine crumb. Keep blending and add the butter and coconut oil. Tip the biscuit mixture into the greased cake tin and use a spoon to press the mixture to form
an even biscuit layer in the base and up the sides. Pop the tin into the fridge until needed.
3
Clean out the blender. Put the almond flour in the blender with the cream cheese and coconut milk. Blend until the mixture is super-smooth. Add the sugar, flour and cornflour and lightly blend until they are well incorporated.
Finally, add the vanilla extract to taste and pulse to mix.
4
Remove the base from the fridge, pour in the filling and smooth the top, making sure it's level. Fill a deep baking tray with warm water around 2.5 cm (1 inch) high, then place the cake tin into it. NB If you are using a cake tin that
isn't sealed you must wrap the bottom of the tin with foil to stop any water getting into the cake.
5
Carefully transfer the tray to the middle shelf of the oven to bake for 1 hour.
6
After 1 hour of cooking, carefully remove the tray from the oven and leave to cool for 1 hour before removing the cake from the tray. Wipe the bottom dry and chill in the fridge to set through for at least 3 hours.
7
Meanwhile, make the stewed rhubarb. Simply heat the chopped rhubarb in a saucepan with the rest of the ingredients and simmer over a low heat for 8–10 minutes, or until the rhubarb is tender.
8
Once the cake has chilled right through, carefully release it from the cake tin. Use a hot knife to cut slices and serve with the warm stewed rhubarb. Decorate with fresh mint.
jvs