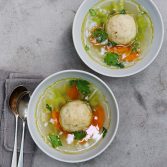 Matzo Ball Soup
A few simple tweaks transform this much-loved recipe in to a vegan delight for all to enjoy. Recipe from the brand new book '
Vegan The Cookbook
' by Jean-Christian Jury, published in hardback by Phaidon, RRP £29.95.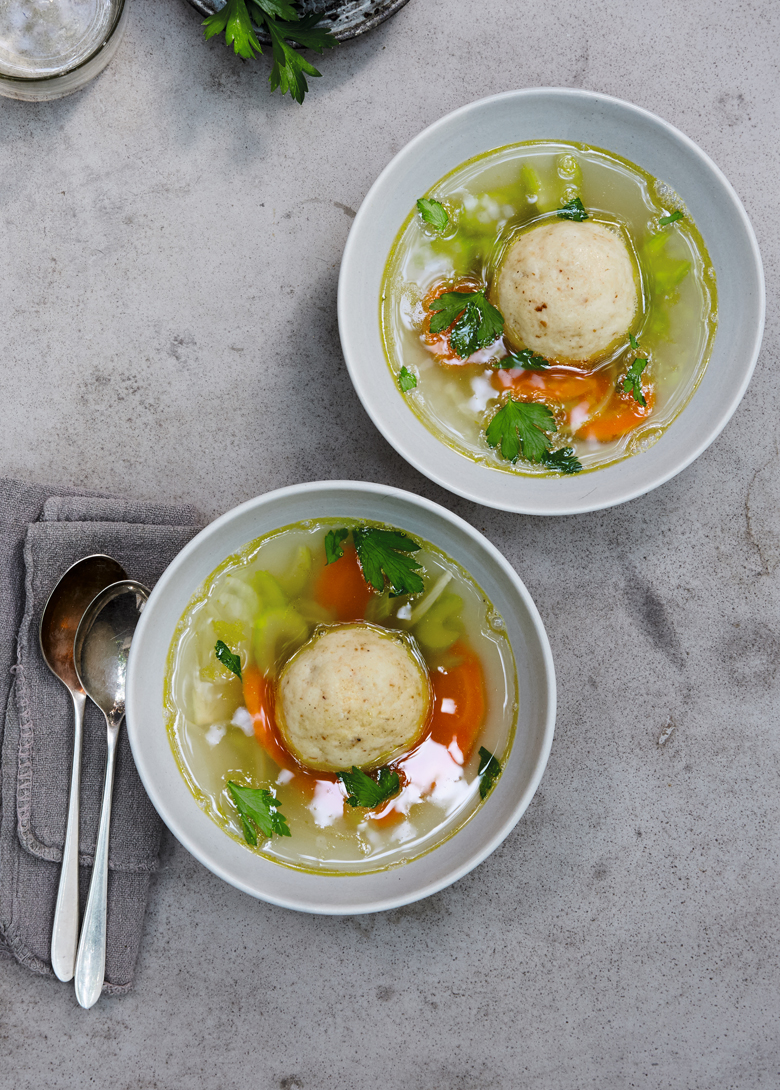 Ingredients
For the matzo balls:
500 g silken tofu
4 tbsp olive oil
250 g matzo meal
2 tbsp nutritional yeast
1 tsp baking powder
1 tsp garlic powder
1 tsp celery seeds
salt and freshly ground black pepper
For the soup:
2 tbsp olive oil
1 onion, chopped
2 carrots, sliced
2 celery stalks, chopped
2 tbsp chopped dill
6.5 cups vegetable stock (broth)
salt and freshly ground black pepper
2 tbsp fresh lemon juice
2 tbsp chopped parsley, to garnish
Instructions
1
To make the matzo ball dought using a food processor or high-speed blender, blend the tofu and olive oil. Transfer the mixture to a large bowl and stir in the matzo meal, nutritional yeast, baking powder, onion powder, garlic powder and celery seeds. Season to taste with salt and freshly ground black pepper and stir well. Put the dough into an airtight container and refrigerate overnight.
2
Heat the olive oil in a large stockpot over medium heat, add the onion, carrots, and celery and sauté for 5 – 6 minutes, until the onion is soft. Add the dill and stock and bring to a boil, then immediately reduce the heat to low and maintain a simmer.
3
Using your hands or a soup spoon, shape the dough into 2-inch (5cm) balls. Carefully drop the dumplings into the soup, trying not to break them. Cover the pot and cook the soup at a low simmer for 40 minutes.
4
Remove the pot from the heat, season the soup to taste with salt and freshly ground black pepper, and stir in the lemon juice. Garnish with the parsley and serve immediately.
Lara Balsam