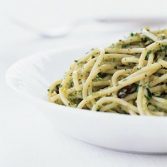 Tu B'shvat: Pasta with green olive pesto
Don't miss the other Tu b'shvat recipes on our website, each using of the seven species. Find out more about the festival of Tu b'shvat, the near year for the trees by clicking 
here
.
Recipe by Kay Chun from realsimple.com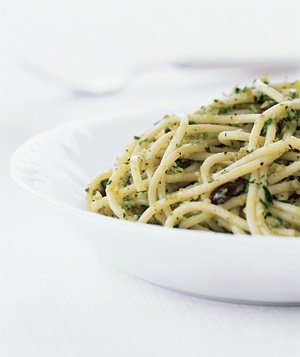 Ingredients
450 g spaghetti
2 garlic cloves, peeled
1/4 cup Niçoise or other green olives, pitted
1/4 cup fresh parsley leaves
1/4 cup fresh basil leaves
1/4 cup olive oil
1/4 cup pitted kalamata or other black olives, chopped
1/2 tsp kosher salt
Instructions
1
Cook the spaghetti al dente, according to the package directions. Reserve ½ cup of the pasta water and drain.
2
Meanwhile, add the garlic, green olives, parsley, and basil to a food processor. With the motor running, slowly add the oil and process until fully incorporated.
3
In a large skillet, over medium heat, cook the olive pesto for 2 minutes.
4
Add the spaghetti, reserved pasta water, black olives, and salt and cook until the water is absorbed and the spaghetti is heated through.
jvs