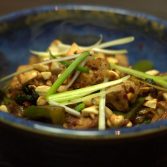 Kung pao tofu
This is the classic spicy dish from Sichuan in China, Kung Pao Chicken, but a vegan version using
tofu
instead of chicken. There are many variations to this dish and you can play about with the vegetables and heat it to suit your mood and personal taste. We like it really spicy so go heavy on the chilli but you can leave the chilli out altogether and still have a dish with strong flavours and textures that you'll return to time and time again.
Recipe courtesy of Tofuture, whose brand new press is just the trick for prepping tofu.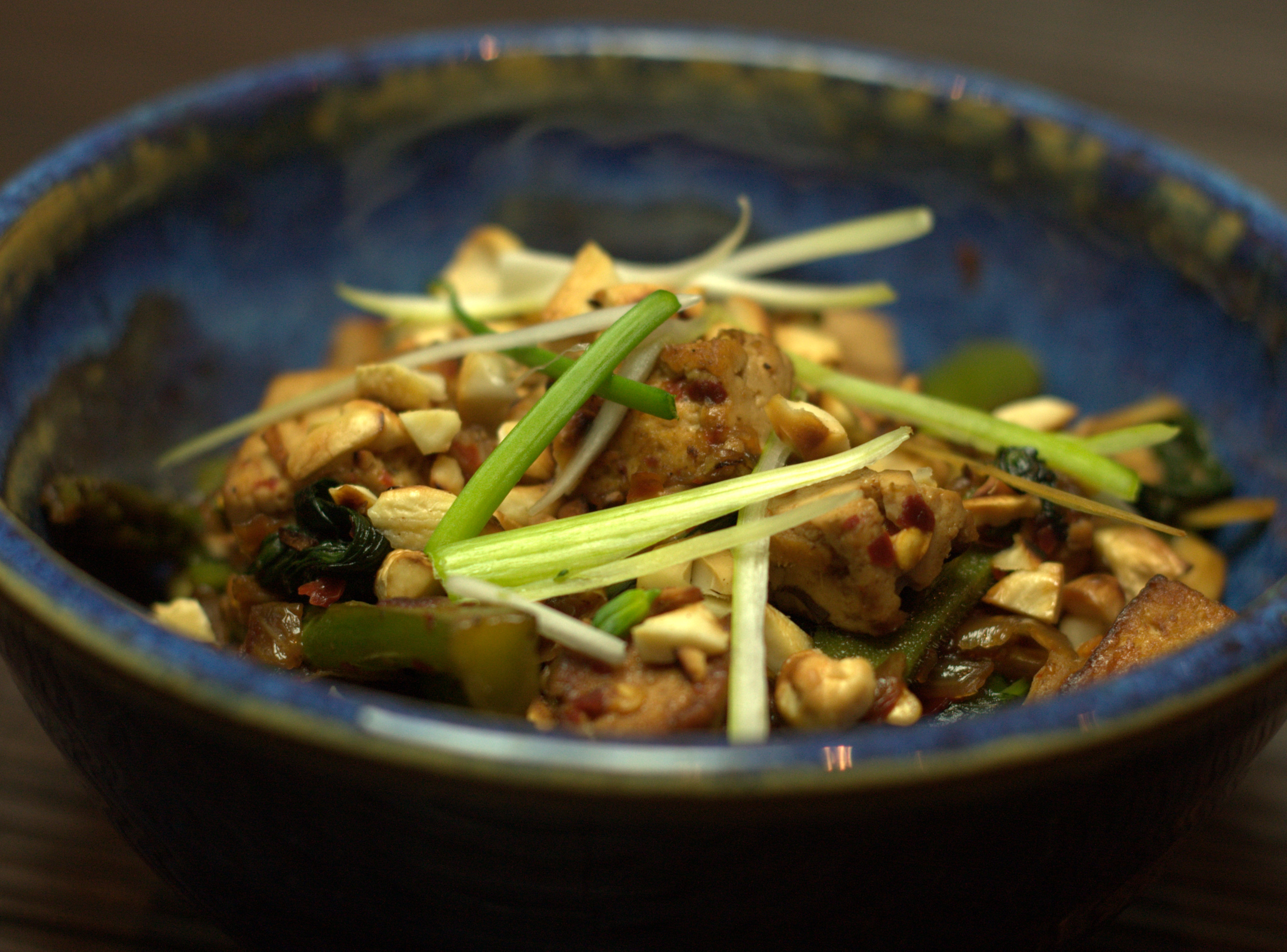 Ingredients
1 block of tofu, well pressed (to remove liquid)
2 tbsp sesame oil
1 large onion, finely chopped
0.5 tsp red wine vinegar
3 cloves garlic
0.5 cup water
0.25 tsp white pepper
1 tbsp soy sauce
1 tbsp finely chopped fresh ginger
1 tsp brown sugar
1 tsp crushed chilli
1 stalk of lemongrass
Veg:
Red pepper, thinly sliced
Okra, sliced in half
Broccoli, cut into small florets
Asparagus, trimmed and left long
Garnish:
0.5 cup of cashews
2 spring onions
Instructions
1
Smash up the cashews with a rolling pin or cut finely with a knife and add to a wok.
2
Heat until brown and then remove to a bowl for later. Finely slice the spring onions. This will be your garnish.
3
Add the sesame oil to a large wok and gently fry the onion until soft and then turn up the heat and add the garlic and cubed tofu and toss until the tofu is brown.
4
Adding the tofu to the onion:
While frying, take the stalk of lemongrass, cut off the ends and remove the tough outer bark. Smash the remaining lemongrass stalk with a rolling pin to release the aromatic oils and leave whole. Lemongrass imparts a great flavour but is tough so you may want to remove the stalk prior to serving.
5
Add the brown sugar, crushed chilli, white pepper, soy sauce and red wine vinegar to the water and whisk until it is mixed. Add to the wok with the lemongrass, okra, broccoli, pepper and asparagus and fry on a high heat.
6
Continue frying, stirring constantly, until the veg is soft.
7
Sprinkle over the chopped, roasted cashews and sliced spring onions and serve with rice or noodles.
jvs