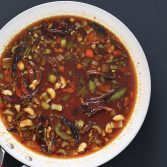 Kung Pao Sauce
This sauce can be mild or super hot. Break one or two of the chillies for extra heat. Szechuan peppercorns are easily available in Asian stores or online. You can use the peppercorns in other Szechuanese dishes. If you can't get hold of the peppercorns, you can get a good-quality chilli oil to finish the dish where you are using this sauce. You can make this sauce with just red pepper flakes and black pepper as well. Try this sauce with my crispy cauliflower, noodles, crispy tofu or a vegetable stir-fry.
Note: If you cannot find Szechuan peppercorns, substititute a mixture of red pepper flakes and crushed black peppercorns.
Recipe and photo from Vegan Richa's Everyday Kitchen copyright © 2017 by Richa Hingle. Used by permission Vegan Heritage Press, LLC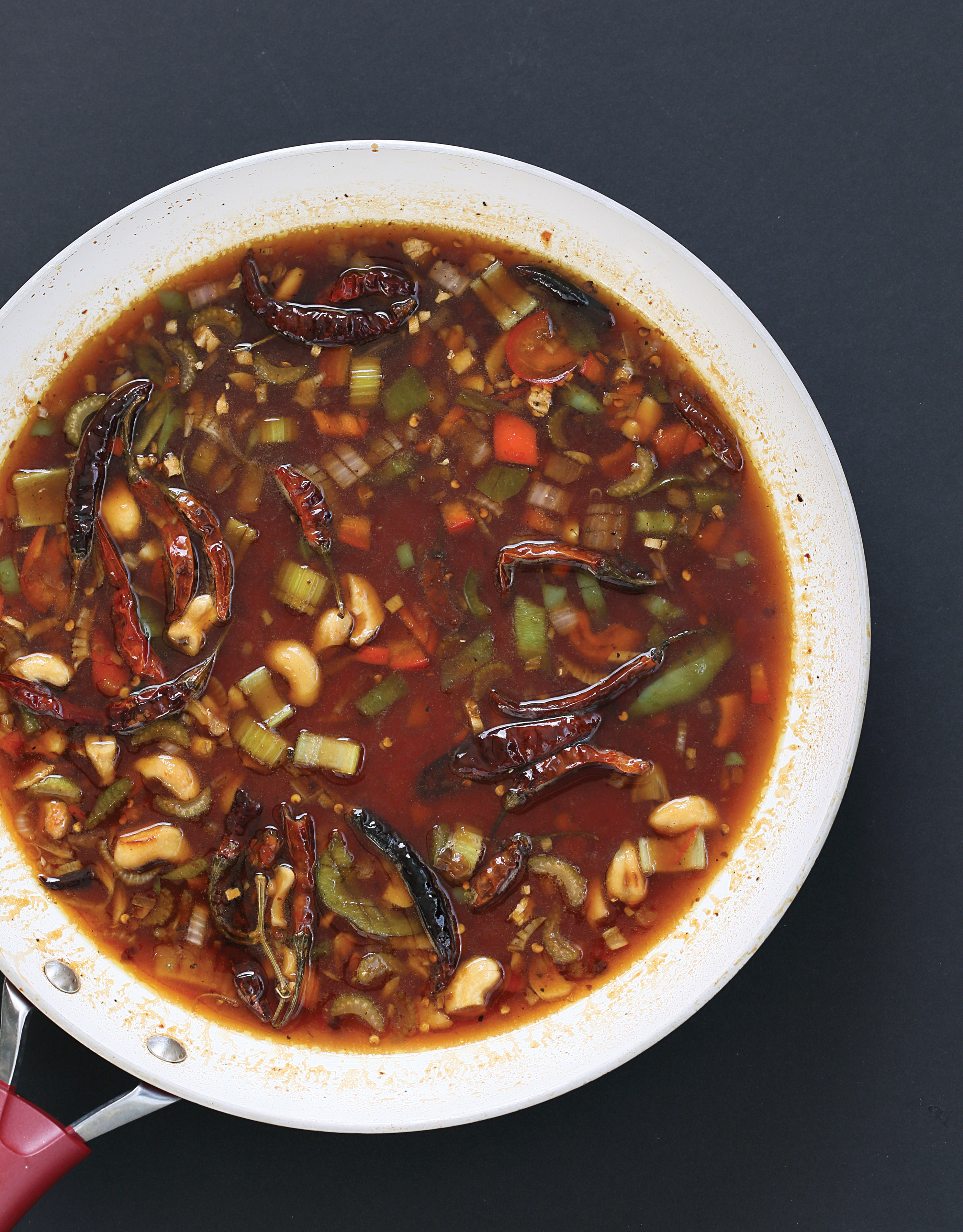 Ingredients
1 tsp organic neutral oil
10 – 12 dried hot red chillies
1/2 tsp crushed Szechuan peppercorns, see note
1/3 – 1/2 (40 – 60 g) chopped cashew nuts or peanuts
5 cloves garlic, finely chopped
1 knob fresh ginger, peeled and finely chopped
2 tbsp coarsely chopped spring onions
1/4 cup (40g) finely chopped red or green pepper, celery or onion, or a combination
1/3 cup (80 ml) soy sauce
2.5 tbsp rice vinegar
2/2.5 tbsp raw sugar
1.4 tsp salt (optional)
1.25 cups (300 ml) water
1.5 to 2 tsp cornstarch
Instructions
1
Heat the oil in large skillet over medium-high heat. Add the red chillies and cook until the chillies are fragrant, but not overly bornw, about 1 minute.
2
Add the peppercorns and cashews and stir for 30 seconds. Add the garlic and ginger, reduce the heat to medium-low. and continue cooking until the garlic and cashews are golden, 4 – 5 minutes, stirring occasionally.
3
Add the spring onions and green/red pepper, stirring to combine. Increase the heat to medium and cook for 1 minute. Add the soy sauce, vinegar, sugar and salt (if using), and 1 cup (240 ml) of the water and bring to a boil, about 4 minutes.
4
Whisk the cornstarch together with the remaining 1/4 cup (60 ml) water and add the mixture to the boiling sauce. Cook until the sauce thickets slightly, 3 to 4 minutes. Carefully taste and adjust the seasoning. If you need more heat, break open a few of the chillies or add some red pepper flakes. Refrigerate the sauce for up to 3 days, or freeze it for up to 1 month.
jvs