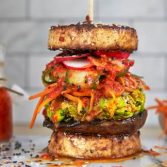 Inside out tofu burger
To celebrate National Burger Day (Thursday 23rd August), Mindful Chef, the UK's number one healthy recipe box delivery service, has teamed up with like-minded Hally's, a Californian-inspired restaurant located in Parsons Green, to create the ultimate plant-based burger.
The Asian style "Inside out tofu burger" has a unique mindful twist. Featuring a gluten-free protein-rich tofu bun and packed with a variety of sustainably sourced, nutritious ingredients, this delicious burger has multiple health benefits.
Myles Hopper, co-founder of Mindful Chef comments: "We're really excited to be collaborating with Hally's to create a vegan, mindful burger! The Inside Out Tofu Burger is full of health-boosting ingredients. The filling features a flavour-packed edamame bean patty, loaded with powerful antioxidants from matcha tea, as well as fresh ginger to help aid digestion. The patty is topped with kimchi, fermented cabbage and layered with pickled cucumber ribbons and radish slices. Finished with a drizzle of delicious sweet chilli sauce, guaranteed to give the metabolism a boost."
Full of flavour, the Mindful Chef "inside out tofu burger" will be available at Hally's on Thursday 23rd August (National Burger Day).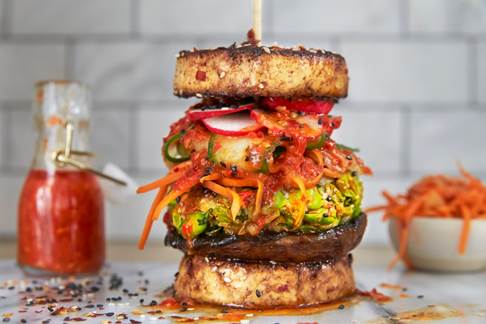 Ingredients
FOR THE TOFU BUN:
300g tofu
1 tbsp tamari
2 tsp chilli paste
1 tsp maple syrup
2 tsp sesame oil
2 tsp white sesame seeds
FOR THE EDAMAME & MATCHA BURGER:
100 g fresh edamame beans
1/4 tsp matcha powder
3 tbsp chickpea flour
2 spring onions
2 cm fresh ginger
1 garlic clove
1/2 tbsp sweet miso paste
1 tbsp sesame oil
1 portobello mushroom
100 g kimchi
50 g carrot
½ cucumber
2 tsp apple cider vinegar
2 radishes
1 tsp black sesame seeds
FOR THE SWEET CHILLI SAUCE:
1 tbsp chilli sauce
2 tsp sesame oil
1 tsp tamari
1 tsp maple syrup
Instructions
1
Cut the block of tofu in half horizontally to form two slices and cut a circular piece of tofu from each. In a bowl, mix the chilli sauce, tamari and maple syrup. Place the tofu in the marinade, coat with the sauce and leave while you prepare the edamame burger.
2
Finely chop or grate the garlic and ginger. Thinly slice the spring onions. In a bowl, mash the edamame beans with a potato masher until roughly mashed.
3
Heat a frying pan on a medium heat with 1 tsp of the sesame oil, add the ginger, garlic and spring onion and cook for 3 mins until softened. Place this mix into a large bowl, then add the mashed edamame beans, matcha powder, chickpea flour and sweet white miso paste. Form the mix into a burger shape around 2cm thick.
4
Heat the same frying pan with 2 tsp sesame oil on a medium heat and cook the burgers for 3-4 mins each side until golden brown. At the same time, in the same pan, cook the portobello mushroom for 2-3 mins each side until softened.
5
Heat a separate frying pan on a medium heat with 2 tsp sesame oil and cook the tofu for 5 mins each side, until turning golden. Brush with the remaining marinade and sprinkle over most of white sesame seeds.
Peel the cucumber into long thin ribbons and place in a bowl with vinegar. After 10 mins, remove from the vinegar.
6
Julienne or spiralize the carrot and mix with the kimchi. Thinly slice the radishes.
7
Mix the ingredients together for the sweet chilli sauce.
8
Assemble the burger – place a slice of tofu as the bun base, then place the portobello mushroom on top, then the edamame patty, then the kimchi carrot, then layer over the pickled cucumber and sliced radishes. Drizzle over the sweet chilli sauce and sprinkle over the black sesame seeds. Top with the tofu bun and the remaining white sesame seeds.
jvs