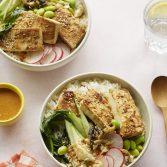 Baked miso tofu rice bowl
This is an easy midweek meal when you want to use up bits you already have. Once the tofu is in the oven, steam the rice and gather your bits from your fridge raid to make this easy rice bowl different every time. Crunchy toppings like seeds and nuts also add an extra dimension to this simple dinner. *For more recipes from Miso tasty – visit
Miso Tasty
.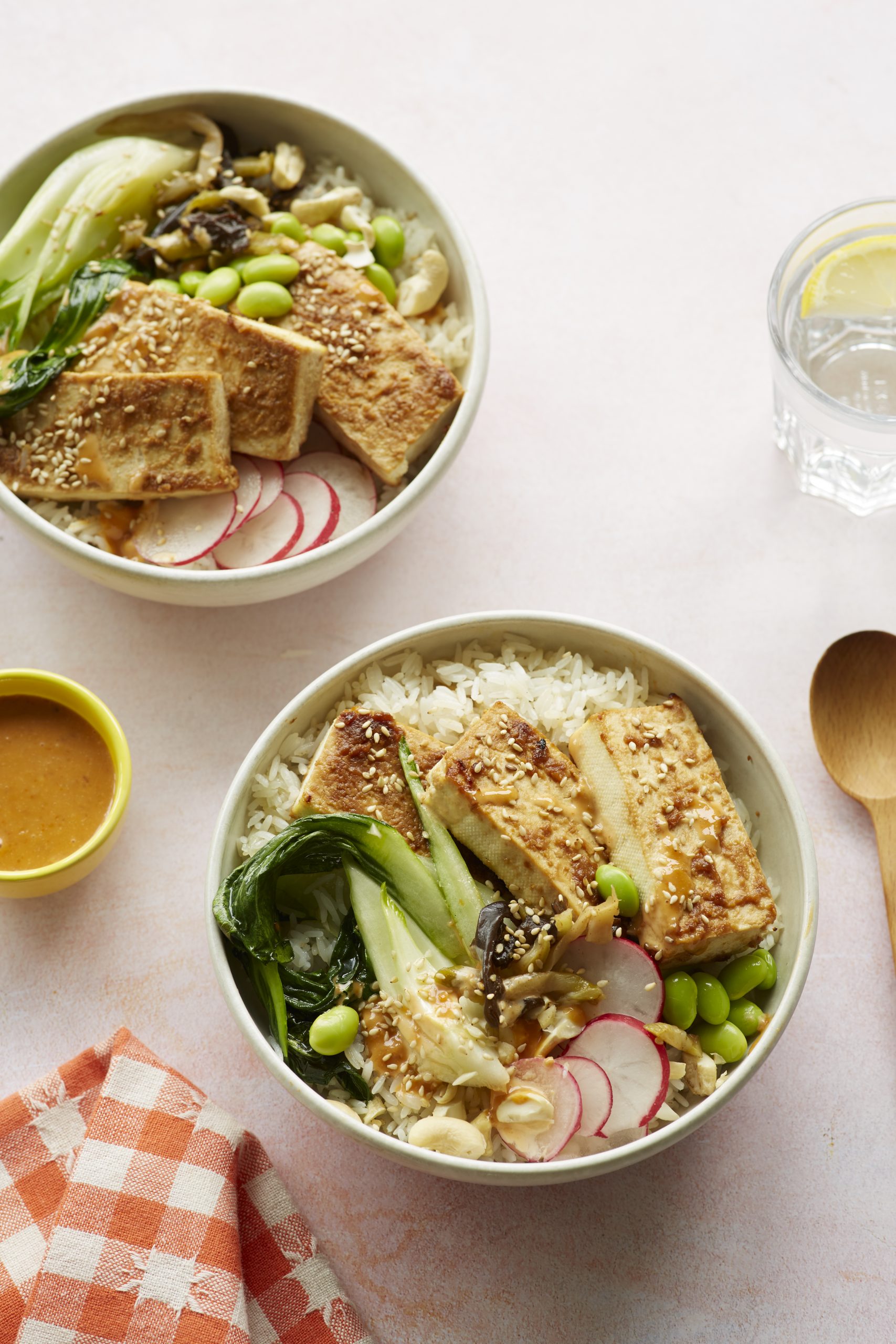 Ingredients
300 g Miso Tasty firm tofu, drained for 20 mins and sliced into 1 cm slabs
3 tbsp white miso paste
180 g steamed rice
2 tbsp toasted sesame oil
1 tbsp maple syrup
1 garlic cloves, finely chopped
1 tbsp olive oil
2 heads of pak choi
Toasted sesame seeds
For the spicy miso mayonnaise
2 tbsp vegan mayonnaise
1 tbsp of red miso paste
1 tbsp of chilli sauce
1 tsp caster sugar
Instructions
1
Preheat the oven to 200 degrees. In a small bowl, mix together the miso, sesame oil and maple syrup and then pour it into a shallow tray. Lay the tofu pieces in the sauce and turn over to cover on both sides.
2
On a lined baking tray, place each piece of tofu carefully in a row and bake for 5 minutes on each side, or until golden. Flip and bake on the other side for the same cooking amount of time.
3
In a frying pan, sauté the garlic in the oil for a few minutes, before adding the pak choi. Stir-fry for a few minutes, then divide the rice, tofu and greens between two bowls.
4
Sprinkle with toasted sesame seeds then mix all the ingredients for the spicy miso mayo and
drizzle across the rice bowls.
Lara Balsam