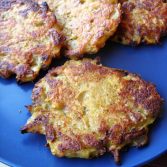 Baked latkes – Chanukah
In a world of latke recipes here's what makes this one special – baked, not fried! We've been enjoying these this with some vegan sour cream. Recipe from
the Shannons
.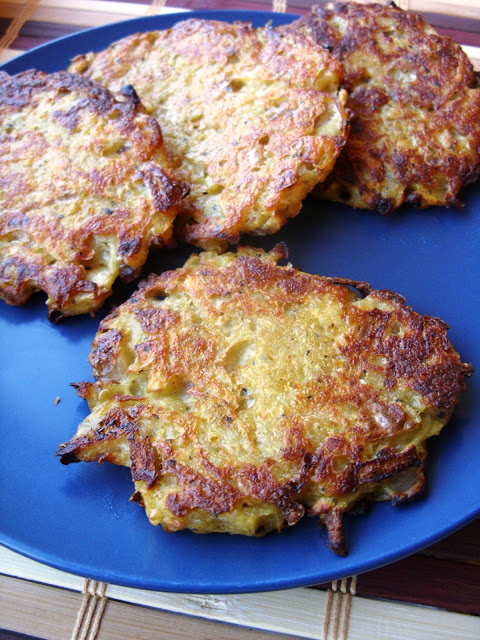 Ingredients
5 -6 Yukon Gold potatoes (we use organic produce when we can so the 5 potatoes we used might be a bit a smaller – just something to keep in mind)
1 red onion, diced
1/4 cup whole wheat flour
1 tsp salt
1/2 tsp apple cider vinegar
1 tsp apple sauce
1 tbsp nutritional yeast
1 tbsp olive oil
1/4 tsp black pepper
1 tbsp EnerG egg replacer
Olive oil cooking spray
Vegan sour cream and / or apple sauce for toppings
Instructions
1
Heat oven to 450 (210 fan, gas mark 8)
2
Shred enough potatoes to make 4 cups using either a cheese grater or food processor. Then mix in the remaining ingredients with the potatoes in a large bowl. Spray a baking sheet with olive oil cooking spray.
3
Place rounded tablespoons of the latke mix on the baking sheet and flatten with a spatula. Then pop in the oven and bake for around 5 and then flip them and put them bake in the oven and bake for another 5 minutes. Then check them. Just keep flipping them every 5 minutes till they are the desired crispiness.
4
Serve warm with the vegan sour cream or applesauce. This will make between 12-15 Latkes.
Lara Balsam