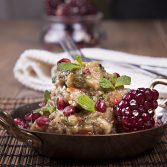 Aubergine & pomegranate salad
I love this combination of fresh pomegranates and smoky aubergine. This salad is so useful ~ enjoy on its own, as part of a buffet, definitely perfect for Shabbat lunch. Recipe by
Denise Phillips
, Professional Chef & Cookery Writer.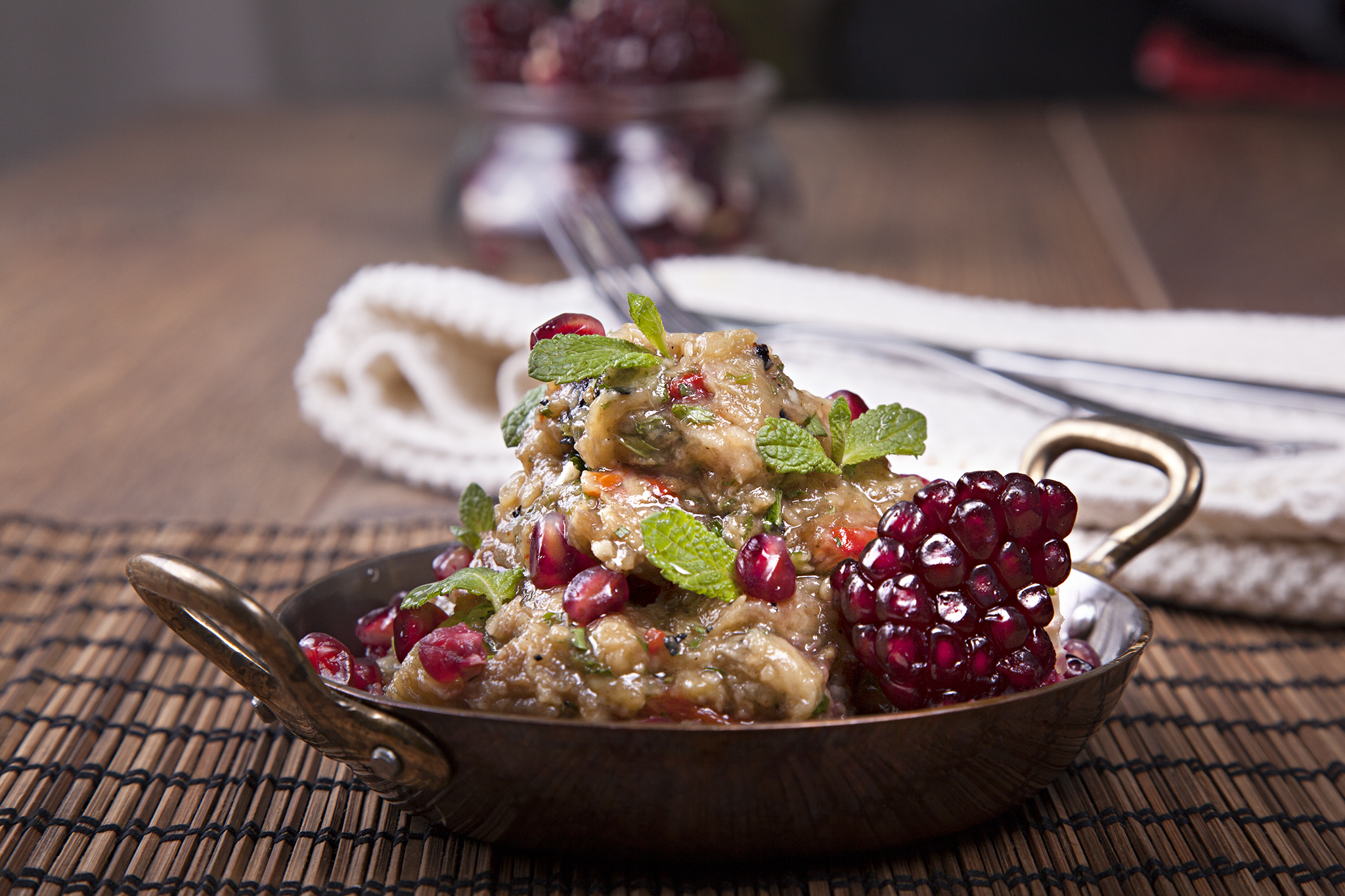 Ingredients
6 large aubergines
3 large red peppers
2 tbsp fresh parsley – finely chopped
2 cloves garlic – peeled and finely chopped
4 tbsp olive oil
Pinch ground cinnamon
1 tbsp pomegranate molasses or date syrup
Juice of 1 lemon
100 g pomegranate seeds
Salt and freshly ground black pepper
Garnish: 2 tbsp fresh parsley – chopped
Instructions
1
Blister and char the skins of the aubergine and peppers either on a BBQ, under the grill or on the hob until they are crisp and completely charred. This will take about 20 minutes under a hot grill.
2
Place the peppers in a bowl covered with cling film and put the aubergines in a sieve. Remove the skins when completely cool. When the skin of the red pepper has been removed, discard the seeds and stalk and roughly chop the flesh.
3
Using a large metal spoon, scoop out the flesh of the aubergine, discarding any charred skin. Chop into smallish chunks, put the pepper in the bowl and mix together.
4
Add the parsley, garlic, olive oil, lemon juice, cinnamon and salt and pepper. Mix well.
5
Transfer to a flat platter to serve.
6
Drizzle with pomegranate molasses, scatter with parsley and pomegranate seeds.
Lara Balsam