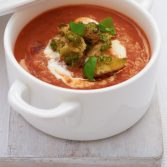 Roasted tomato soup with pesto croutons
A wonderful winter warmer, this soup is packed full of flavour and goodness.
Recipe by Sacla'. Established in 1939, Sacla' is still a family owned and run business based in Piedmont, north-west Italy.  Sacla' are the original Pesto Pioneers, with a huge number of Italian recipes all made in Italy by Italians, for Italians. As well as an award winning range of Pesto and pasta sauces, Sacla' also produce a range of Italian ingredients and antipasti. The core Sacla' range is on sale in Asda, Co-op, Morrisons, Ocado, Sainsbury's, Tesco and Waitrose as well as online and through independents and cash and carry stores.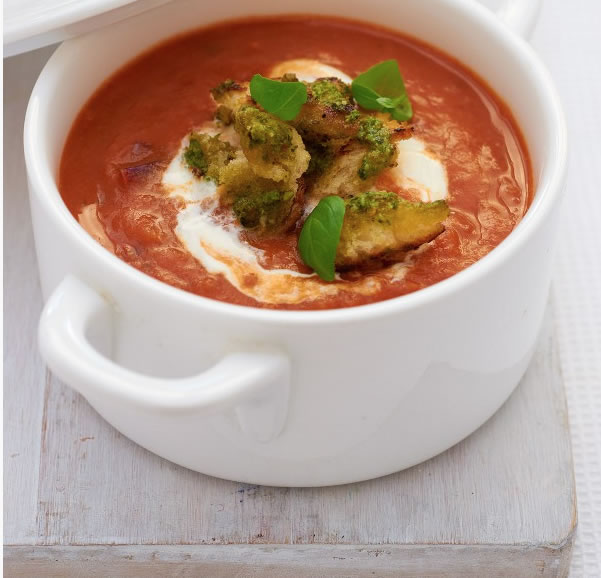 Ingredients
1kg tomatoes, ripe
2 carrots, peeled and roughly chopped
2 large red onions, roughly chopped
2 garlic cloves
4 tbsp olive oil
750 ml vegetable stock
Salt and black pepper
A pinch of sugar
3 – 4 slices bread / gluten free bread
2 tbsp Sacla' Free From Basil Pesto
2 tbsp Olive oil
A few basil leaves, to garnish
Instructions
1
Preheat the oven to 200°C / 400°F / gas mark 6.
2
Quarter the tomatoes and tip into roasting tray.
3
Add carrot, red onion and garlic and toss with oil before seasoning.
4
Roast for 45 minutes, until soft and golden in places.
5
Scrape into a large saucepan with all the sticky bits from the roasting tray.
6
Add 750 ml of hot stock and heat gently over a medium heat. Simmer for 15 minutes and then puree the soup, adding extra hot stock if needed.
7
Season to taste with salt, pepper and a pinch of sugar.
8
Tear the bread into rough bite-sized pieces and spread onto baking tray. Mix thoroughly with the Sacla' Pesto, oil and salt.
9
Cook in the oven, on the shelf above the veg, for 8 – 10 minutes, stirring once.
Remove from oven when crisp and toasty then set aside
10
Ladle soup into warm bowls and top with a handful of crunchy pesto croutons and a few basil leaves.
jvs