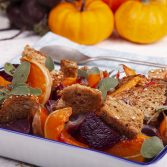 Warm Italian Roasted Root Salad
This is a colourful combination of seasonal root vegetables – red onions, beetroot, carrots and squash.  If available, do include different coloured beetroots or even add pumpkin. Enjoy as it is or serve as a side dish on a buffet table.
Recipe by Denise Phillips
Denise runs regular cookery classes, and there are 2 vegan ones coming up:
Winter Vegan    Tuesday 3 December
Winter Vegan Comfort Food   – Thursday 12 Dec
AT: Northwood, London
Time: 10am – 2pm
Cost:  £65 ~ to include lunch
To book:  Call 07803 895 341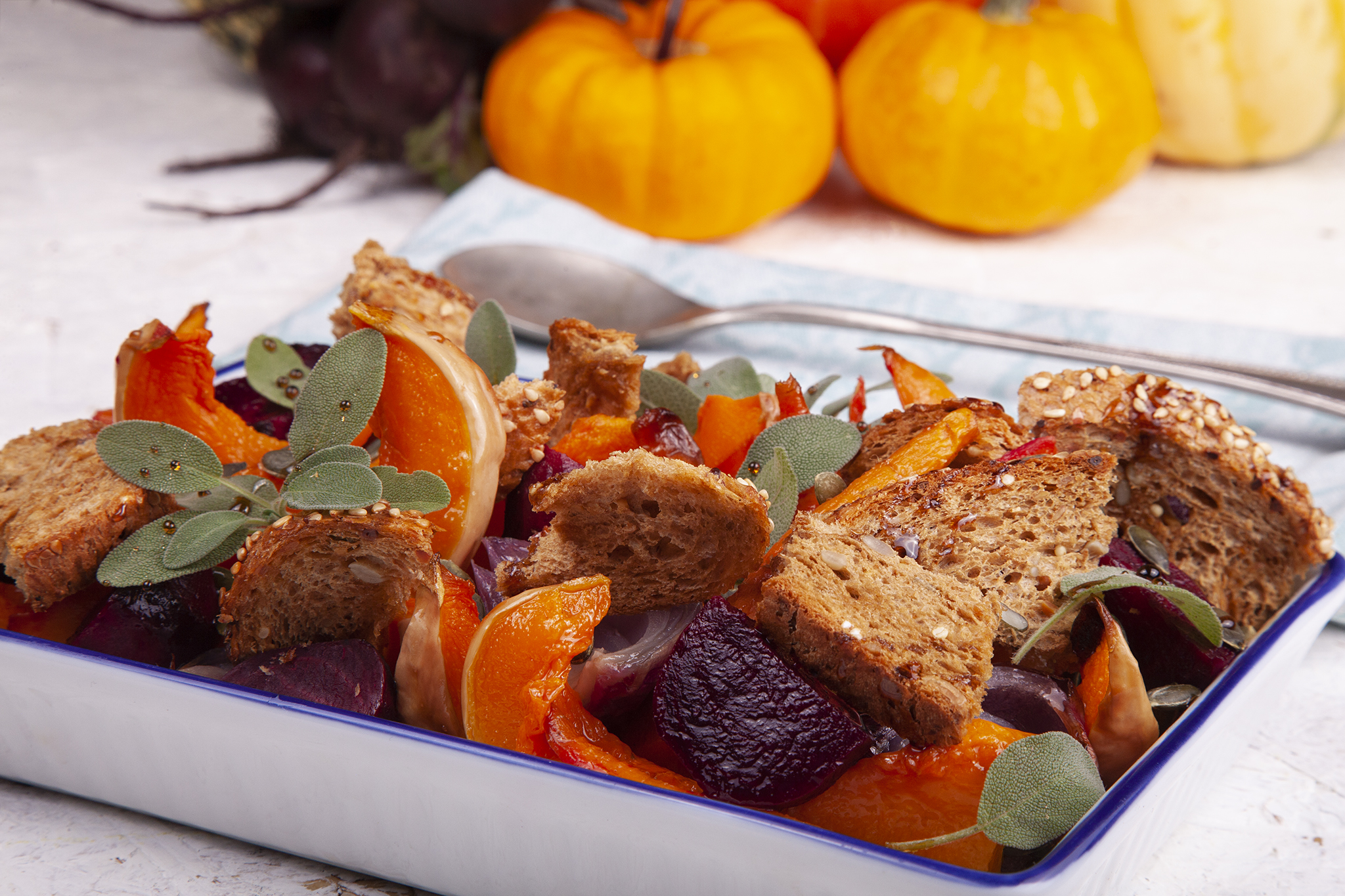 Ingredients
For the beetroot
6 medium raw beetroots – peeled and quartered or 4 large cut into eighths
2 tbsp red wine vinegar
Olive oil for drizzling
For the other vegetables
2 red onions – cut into eighths
6 small carrots – halved lengthways
½ butternut squash – cut into slices skin on
A handful of sage or thyme leaves
5 slices of good seeded bread
2 tbsp pumpkin seeds
For the dressing
2 tbsp extra virgin olive oil
Sprigs of fresh mint
Zest of 1 lemon
1 tbsp wholegrain mustard
1 tsp maple syrup
Instructions
1
Preheat the oven to 180C fan/200C.
2
Put the beetroot in a deep roasting tin with the vinegar, seasoning and a good splash of olive oil. Coat evenly, cover with foil and roast for 30 minutes.
3
Put the onions, carrots and squash in a separate oven tray. Season well, drizzle with olive oil and roast for a further 30 minutes or until tender and golden. Remove and mix well.
4
Tear the bread into small chunks and put into the oven tray with the onions. Mix well. Add the sage, thyme and scatter with pumpkin seeds. Return to the oven and roast for a final 5-10 minutes.
5
For the dressing, carefully remove the juices from the beetroot tray and put into a jug. Add the olive oil, mint, lemon zest, mustard, maple syrup, season and mix well.
6
Combine all the vegetables together. Place into a large serving dish.
7
Drizzle with the dressing and serve immediately.
Lara Balsam