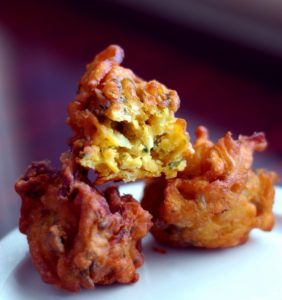 Cumin Pakoras
Prep time:
Cook time:
Total time:
Serves:
Makes approx. 20 pakoras
These Indian pakoras are perfect for a party. Cumin has a very distinctive flavour. Some pakora recipes use them but others do not. You may choose to flavour the pakoras using alternative spices.
Ingredients
2 largish onions plus 1 large courgette (chopped finely/grated) OR 2 largish onions and 2 small potatoes (chopped finely/grated) OR 3 largish onions (chopped finely/grated)
175 g/6 oz gram flour
½ teaspoon salt
¼ teaspoon baking powder
1 – 2 teaspoons cumin seeds
½ – 1½ teaspoons chilli powder
200 ml water
2 cloves garlic, crushed
vegetable oil for deep frying (approx. 1 litre)
½ teaspoon turmeric (optional)
1 teaspoon garam massala (optional)
1 teaspoon ground coriander (optional)
few sprigs of fresh coriander, to serve
lemon wedges, to serve
lettuce, to serve
Instructions
Place the gram flour, salt, baking powder, cumin seeds, chilli powder (plus any additional spices you choose) into a large mixing bowl and mix well together
Make a well in the centre of the mixture and gradually stir in the water, mixing thoroughly to form a batter.
Stir in the crushed garlic and the chopped/grated vegetables and leave the mixture to infuse for 10 minutes. (The mixture should be a little runny but not too much so. If you feel you need some more vegetables add some more. Do not make too thick however.)
Pour vegetable oil into a chip pan until it reaches the 1/3 mark. Heat to 180°C/350°F or until you test that a little of the mixture starts frying nicely.
Using a dessertpoon (1 dessertspoon of mixture = 1 pakora) carefully start placing the mixture into the hot oil. To do this, lower one spoonful of mixture into the oil and gently remove the soon. Do another, making sure they do not join together. You will be able to cook approx. 5 pakoras "per fry".
Leave the 5 cooking pakoras for about 8 – 10 minutes. Then turn them once and allow the other sides to cook (if not covered in oil), also for 8 – 10 minutes. They should be well-cooked.
Remove the pakoras once they are golden brown (using a slotted spoon) and place them on a thick layer of kitchen paper.
Clear the remnants of the first pakora batch from the hot oil and then put the next batch of 5 in to cook. You will find the mixture can be fried in about 4 batches, so allow just over an hour for frying. (You will be able to get on with other things in the kitchen during this time.)
Serve hot (or cold) on a bed of fresh lettuce, sprinkled with course salt and garnished with lemon wedges and sprigs of coriander.