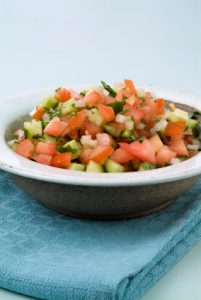 Light and fresh, classic Israeli salad is perfect as a side dish or with falafel and hummus in pita bread.
Ingredients
3 tomatoes
1 medium cucumber (or 2 small cucumbers)
1 red pepper (optional)
3 spring onions
2 tablespoons extra virgin olive oil
Juice of 1 lemon
Salt and freshly ground black pepper, to taste
Instructions
Dice the cucumber, tomatoes and pepper, if using, into very small cubes (the smaller the better).
Chop the spring onions finely.
Put the vegetables together and add the lemon juice, olive oil, salt and pepper.
Mix together and serve fresh.