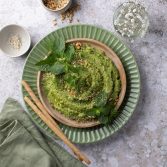 Pea, minted and toasted pine nute pâté
After a life-changing medical experience, Joanne Wood, aka The Balanced Kitchen, decided to have a complete overhaul of her diet and now shares her experiences and recipes with others. 
For Joanne, food is about much more than sustenance and she believes it can bring creativity, colour, health and happiness to our lives. 
Below she shares a delicious healthy meal, which has been created to reflect the vibrancy and excitement of Spring
This colourful pâté tastes as fresh as it looks and kick starts this Spring meal with an air of excitement.
Please note: pâtés are not recommended for pregnant women.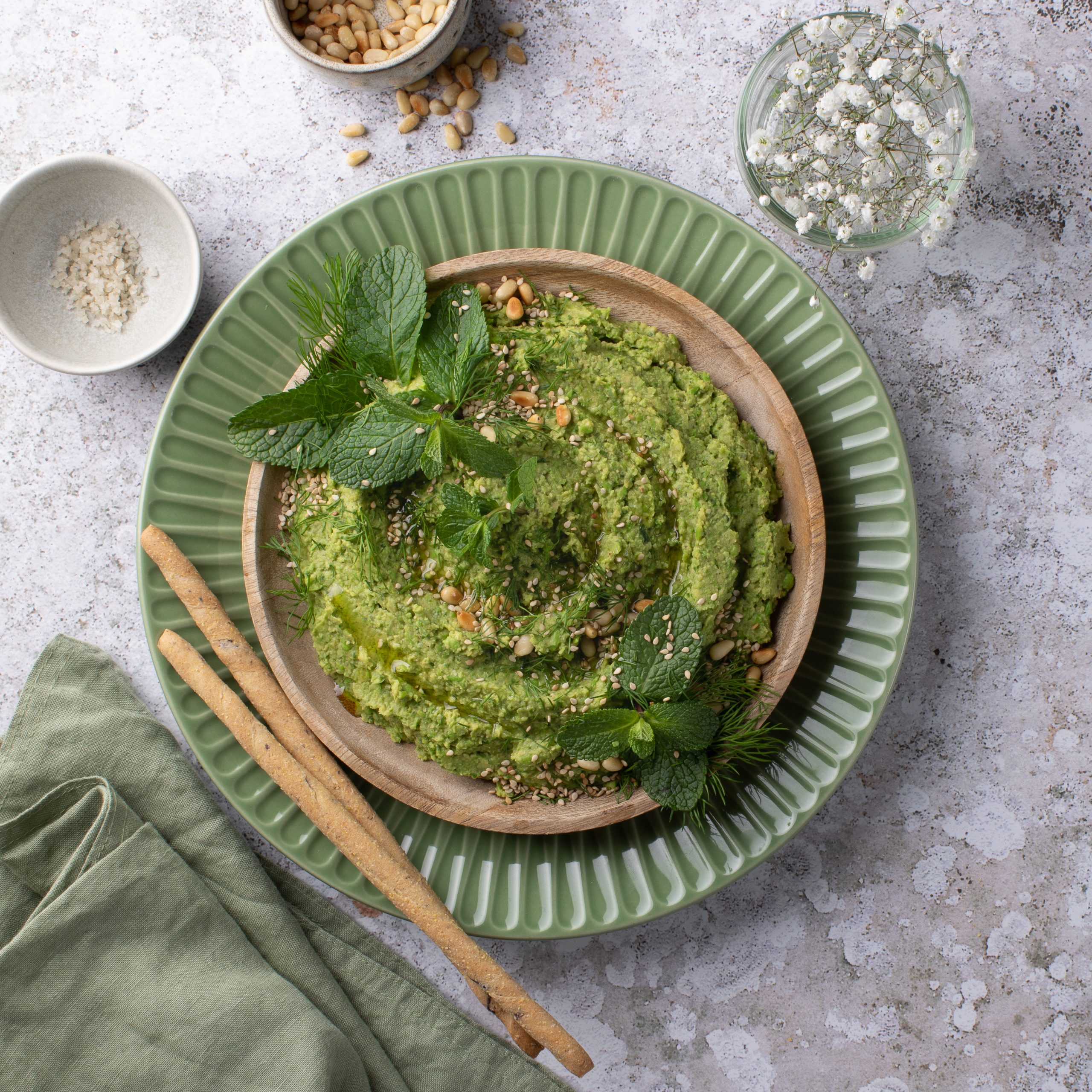 Ingredients
1 small brown onion, peeled, diced small
150 g fresh or frozen peas (thawed), reserve some for serving (optional)
400 g tin of chickpeas, rinsed (drained weight 230 g)
Large handful fresh spinach, washed
2 large cloves garlic, peeled
50 g tahini paste
Salt & pepper
Large sprig of fresh mint leaves, washed – reserve some for serving
20 g pine nuts, lightly toasted
Small handful dill and sesame seeds for serving
Instructions
1
Place the diced onion with a dash of oil or water into a small frying pan with a lid and cook over a low heat until they become soft and translucent (5 – 10 mins).
2
Remove the cooked onions from the heat and pour into a food processor.
3
Add the peas, drained chickpeas, spinach, garlic, tahini, seasoning and mint leaves (reserve some for serving if desired).
4
Pulse until smooth and creamy.
5
Transfer the mixture into a serving dish and top with the toasted pine nuts, extra mint leaves, dill and sesame seeds.
6
Serve with breadsticks or raw, sliced vegetables.
Lara Balsam