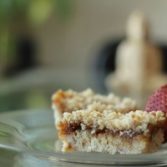 Tu B'shvat: Raw date square
Don't miss the other
Tu b'shvat recipes on our website
, each using of the seven species. Find out more about the festival of Tu b'shvat, the near year for the trees by clicking 
here
.
This is the perfect treat for tu b'shvat – and don't miss the other recipes on our website, each using of the seven species.
This morning I had a craving for a traditional date square, just like mom used to make! Not wanting to break my raw vegan momentum, I put my chef's hat on and "un-cooked" up this raw version. I ate them for breakfast with a tall glass of almond milk. Enjoy!
Recipe By Karen Bell @intuitivekb from intuitivekb.com.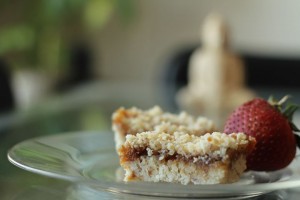 Ingredients
For the crust:
3/4 cups shredded unsweetened organic coconut
3/4 cups almonds
1/4 cup pitted organic dates
dash of salt
Date filling:
– 1 cup pitted organic dates, pitted
– 1/4 cup water
Instructions
1
In a food processor, combine the coconuts, almonds, and salt until fine. Add the dates until dough forms, then press half of the mixture into a 5×7 rectangular pan.
2
Blend dates and water in food processor until smooth and creamy. Add more water if needed. Gently spread the filing onto the crust with a spatula, then add the other half of the crust mixture on top.
3
Press down with your hands or a potato masher to pack the date squares firmly into the pan. Place in the fridge to set for an hour or two before cutting.
jvs