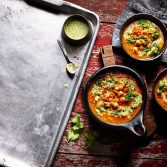 Winter – lemony spiced lentil & chickpea soup with coriander dressing
This delicious recipe is from Rebel Recipes by Niki Webster is published December 26th (Bloomsbury, RRP £26). Photos: Kris Kirkham.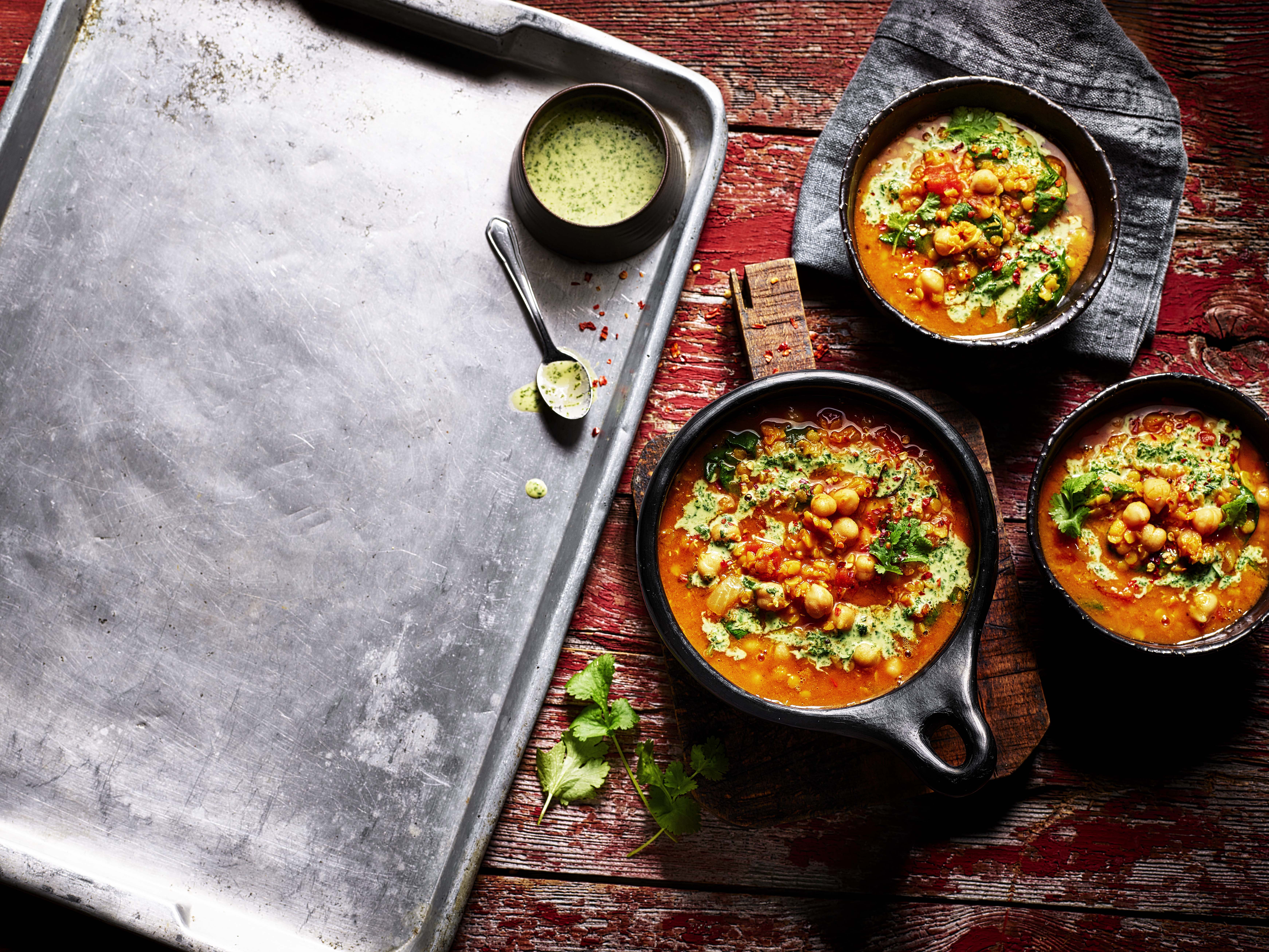 Ingredients
2 onions, chopped

3 garlic cloves, sliced

a thumb-sized piece of ginger, peeled and grated

1 tsp black mustard seeds
1 tsp cumin seeds

1 tsp ground turmeric

1 tsp ground coriander

1⁄2 tsp dried chilli flakes
4–5 curry leaves

250 g red split lentils, rinsed and drained

400 g can of chopped tomatoes
400g can of chickpeas, rinsed and drained

100 g spinach, or kale with tough stalks removed

juice of 1 ⁄ 2 lemon

2–3 tbsp coconut yoghurt or coconut cream
optional fresh coriander leaves

sea salt flakes and freshly ground black pepper
For the coriander dressing:
juice of 1 ⁄ 2 lemon

25 g coriander

1 tbsp tahini

1 tbsp extra virgin olive oil
Instructions
1
Heat the olive oil in a large pan and sauté the onions, over a low heat, for 10 minutes, until softening. Add
 in the garlic, ginger, spices and curry leaves. Fry for a further few minutes. Add the lentils along with 1.25 litres of water.
2
Stir in the tomatoes and bring to a boil over a medium-high heat. Reduce the heat to medium-low and simmer the soup for 20 minutes.
3
Finally, add in the chickpeas and spinach and squeeze in the lemon juice. If using, dollop in the coconut yoghurt. Season with salt and pepper.
4
Make the dressing by adding the ingredients along with 50 ml of water to a mini food processor and blitzing until creamy.
5
Serve the soup with generous amounts of dressing and some fresh coriander to garnish.
Lara Balsam