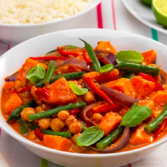 Thai vegetable red curry
A perfect winter warmer, bursting with flavour.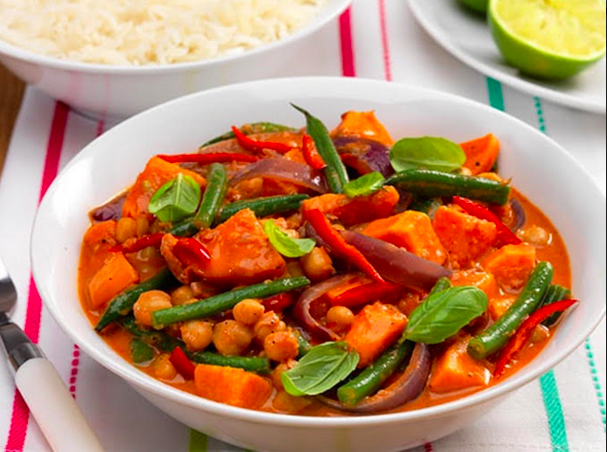 Ingredients
25g Flora 100% natural ingredients margarine
1 tbsp vegetable oil
1 red onion, peeled and cut into thin wedges
2 garlic cloves, crushed
1 red chilli, deseeded and thinly sliced
3 tablespoons Thai red curry paste
410 g coconut milk
500 g sweet potatoes, peeled and cut into chunks
220 g green beans, trimmed and helved
400 g tinned chickpeas, drained
1 lime, juiced
1 pack basil
Thai Jasmine rice or basmati rice, to serve
Instructions
1
Heat Flora margarine and oil in a large frying pan and fry the onion for about 5 minutes until soft.
2
Add crushed garlic and half the chilli and cook for 2-3 minutes.
3
Stir in the Thai red curry paste, coconut milk and 250 ml water and bring to the boil.
4
Add sweet potatoes, reduce heat to a simmer and cook uncovered for 10 minutes.
5
Add green beans and chickpeas and cook for a further 5-10 minutes until the sweet potatoes and beans are just tender.
6
Stir through the lime juice.
Lara Balsam