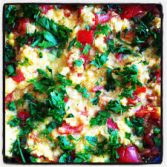 Sweetcorn shakshuka
Recipe courtesy of Ori Shavit. Ori is a food journalist, blogger and animal rights campaigner. She publishes recipes on her blog
vegansontop.com
, teaches vegan cooking classes and promotes veganism in Israel. You can read her 'My Life as a Vegan' interview by clicking
here
.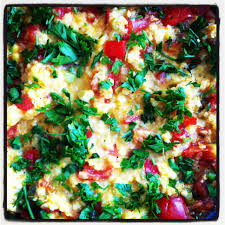 Ingredients
5 fresh cobs of corn
3 – 4 small and very ripe tomatoes – diced in to cubes, with juice and seeds (or 2 – 3 handfuls of halved cherry tomatoes)
3 – 4 stalks of scallion, diced
1 chilli pepper, diced (optional)
sweet paprika, hot/smoked paprika
unrefined sea salt and freshly ground black pepper
olive oil
For garnish: handful of chopped parsley
Instructions
1
"Squeeze" the corn cobs: Remove the fibres (see brief tip below). Hold the corn vertically over a cutting board, and use a sharp knife to slice each row of kernels at its centre, from the top and down the entire length. After all the rows have been sliced open, reverse the knife and use the blunt side to press the kernel contents out, starting from the top and all the way down towards the board. This way you leave the shells on the cob, but if a few shells do manage to slip in, no harm done. Do this for all cobs, and gather the creamy corn into a bowl. Set aside.
2
Heat some olive oil in a pan and sauté the scallions and chilli for 2 – 3 minutes. Add the tomatoes with their juice and seeds, and continue to sauté for 5 – 7 minutes, stirring occasionally, until the tomatoes soften and the liquids accumulate.
3
Add the creamy corn to the tomatoes and stir. The corn is full of starch (we all know corn starch!) so it's best to add some water at this point to soften it up as you stir.
4
Season with sweet paprika, hot paprika, and, if you're so inclined – smoked paprika, to add a special kick to the dish. Add salt and pepper to taste. Divide in to serving dishes, garnish with some chopped parsley, and serve right away.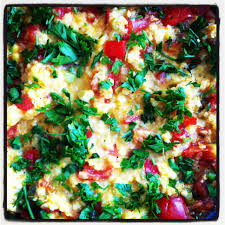 Lara Balsam