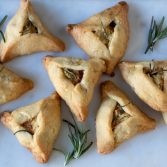 Savoury vegan goat cheese and tomato hamantaschen – Purim
Meet the unsung hero of the Hamantaschen cookie! The savoury Hamantaschen!
Hamantaschen are made to celebrate the Jewish holiday of Purim, which celebrates the bravery of Esther against the evil, Haman. Although the cookies are typically sweet and filled with things like poppy seeds, jam, or chocolate, I decided this year to try a savory Hamantaschen using our almond herb goat cheese, rosemary, and tomato. *You could always speed things up by buying a vegan cream cheese, stocked in regular supermarkets.
We left the dough a little sweet with a hint of lemon, but y'all, it works! Nobody in my house was booing these cookies.
They are delicious!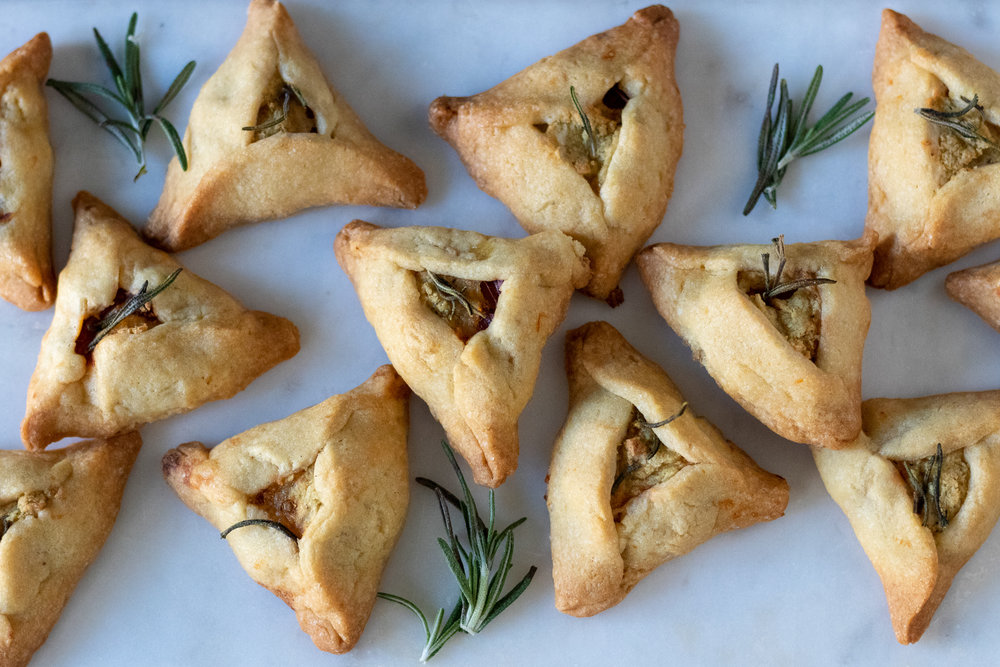 Ingredients
The dough
3/4 cups vegan butter, room temperature
1/3 cup sugar
2.5 cups all purpose flour
1 egg replacement
1 tsp lemon zest
1/2 tsp salt
1-2 tbsp water
The filling
1/4 batch Vegan almond herb goat cheese
12 cherry tomatoes. Sliced into rings
Fresh rosemary
Instructions
1
In large bowl, cream together the sugar and butter until light and fluffy.
2
Next , mix in the lemon zest and egg replacer with the butter and sugar.
3
Finally add the flour and the salt, and mix until a soft dough forms. If the dough seems crumbly, add in a tablespoon or two of water.
4
Knead the dough on a lightly floured counter top for a few minutes. You do not want to over knead the dough, you just want to make sure all of the ingredients and well incorporated.
5
Wrap the dough in plastic wrap and chill for 2-3 hours in the fridge. The dough is really soft and needs to be pretty cold to roll out.
6
Once dough is ready, roll it out on a large, clean, floured surface. I like to split my dough in half and only roll out one half at a time, leaving the other half in the fridge so it does not soften back up. I find it easier to manage. Roll the dough out to around 1/8 of an inch thick.
7
Preheat oven to 350 degrees
8
Using a 3 inch circle cookie cutter or biscuit cutter (or the rim of a small glass) cut circle in dough. Carefully transfer the circles to a parchment paper lined cookie sheet. Take about a 1/3 teaspoon of the almond herb goat cheese and place in the center of the circle. Top the cheese with a ring of cherry tomato and a few springs of fresh rosemary.
9
Form the cookie into a triangle by pinching the top to a point. Fold up the bottom half of the circle, and pinch the two bottom corners together all well. Make sure all three corners are pinched well so the triangles do not come open while baking. Continue with remaining dough, leaving about an inch of space between each cookie.
10
Bake cookies for about 20 minutes. Once cookies are done, transfer to a wire rack to cool.
Lara Balsam