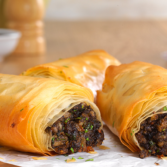 Sausage rolls
The first day of school is upon us, and Flora is sharing three dairy-free back-to-school inspired recipes to ensure your child's lunchbox is envied on the playground.  
Why not try this plant-based twist on a classic vegan 'Sausage' Rolls, each recipe is perfectly created to keep lunchtimes interesting.  
All recipes swap out dairy butter for Flora 100% Natural Ingredients, a delicious plant-based spread that is made from simple, natural ingredients and is also incredibly versatile as it can be used for cooking, frying, spreading, and baking.
Check out the Flora 100% Natural Ingredients spread and recipes here.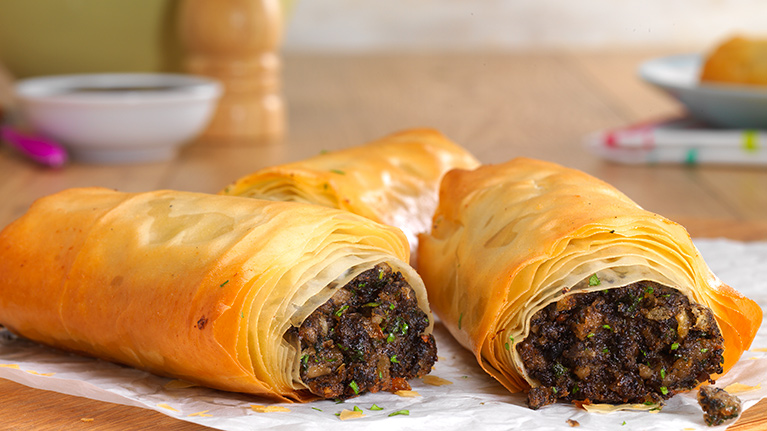 Ingredients
50 g Flora 100% Natural Ingredients
1 small onion finely chopped
2 cloves garlic crushed
500 g chestnut or forest mushrooms
100 ml white wine, optional
80 g breadcrumbs
10 g fresh parsley and thyme, chopped
salt
black pepper
8 vegan filo pastry sheets
Instructions
1
Preheat oven to 200 C, 180 C fan oven, Gas mark 6.
2
Melt 25 g Flora 100% Natural Ingredients in a frying pan and sauté onion and garlic for 2 minutes before adding the mushrooms and frying for 4 – 5 minutes until lightly browned.
3
Add the wine if used and bring to the boil.
4
Remove from the heat and stir in the breadcrumbs, herbs and seasoning.
5
Meanwhile melt remaining Flora and layer up 4 sheets of Filo pastry, brushing each sheet in between with melted Flora. Keep the remaining 4 sheets of Filo covered with a clean, damp tea towel so that they do not dry out.
6
Spoon half of the mushroom filling along one long side of the layered Filo sheets and roll up lengthways to enclose the filling. Cut into 6 even rolls.
7
Place on a baking tray lined with baking paper and repeat with the remaining 4 sheets of Filo pastry and mushroom filling.
8
Brush the rolls with remaining Flora and bake in preheated oven for 25-30 minutes until crisp and golden. 
Serve warm. 
Lara Balsam