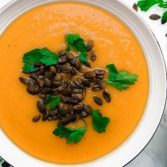 Roasted butternut squash & apple soup with spiced pumpkin seeds
This vibrant soup is jam-packed with goodness. The pumpkin seed topping, adds a great source of plant based protein, and also make a delicious snack on their own. Recipe from The Food Effect, written by Dr Michelle Braude.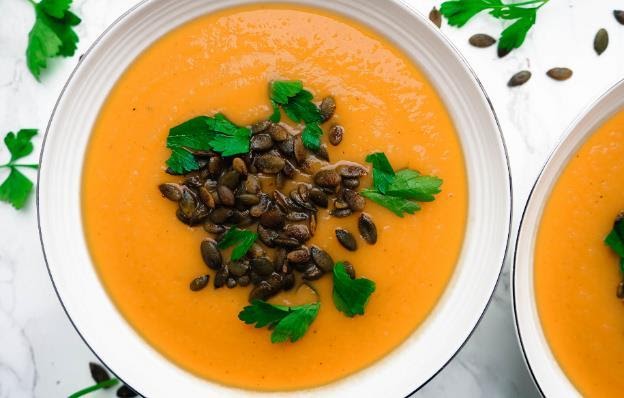 Ingredients
For the soup
2 tbsp olive oil
1 large white onion, diced
2 green apples, peeled and chopped
1 tsp xylitol sugar alternative (available in stores as Total Sweet)
½ tsp ground cinnamon
½ tsp ground ginger
¼ tsp chilli powder
1.5 tsp fine sea salt
2 kg butternut squash, peeled, de-seeded and cut into cubes
8 cups vegetable stock (made from vegetable stock powder)
For the spiced pumpkin seeds
1 cup pumpkin seeds
1 tbsp extra virgin olive oil
½ tsp ground cinnamon
½ tsp chilli powder
Generous pinch of salt and black pepper
Instructions
1
Heat the oil in a large pot over a medium heat.
2
Add the chopped onion, apple, cinnamon, ginger, chilli powder and salt.
3
Cook, whilst stirring occasionally, for around 5 minutes.
4
Add the butternut squash to the pot, and stir to coat for another 5 minutes.
5
Add the stock, bring to a boil, lower the heat and simmer, with the pot covered, for around 40-50 minutes, until the squash is soft.
6
Allow the soup to cool and blend in a blender or with a hand-held immersion blender until completely smooth.
7
To make the spiced pumpkin seeds – combine the oil, cinnamon, chilli powder, salt and pepper together in a small bowl. Add the pumpkin seeds and stir to coat.
8
Heat a pan over a medium heat.
9
Add the pumpkin seeds, and allow to toast in the pan, whilst stirring to ensure they don't burn, for around 3-5 minutes.
10
Remove from heat and allow to cool fully.
11
Serve the soup heated, with a generous sprinkling of spiced pumpkin seeds on top.
Lara Balsam