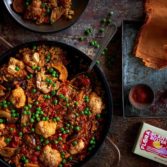 Paella
Bursting with flavour, this veg-packed paella is tasty one-pot supper, perfect for the cooler months. Recipe from Flora, using the new
Flora Plant B+tter Spreadable.
Flora Plant B+tter Spreadable has a 70% lower carbon footprint than dairy butter.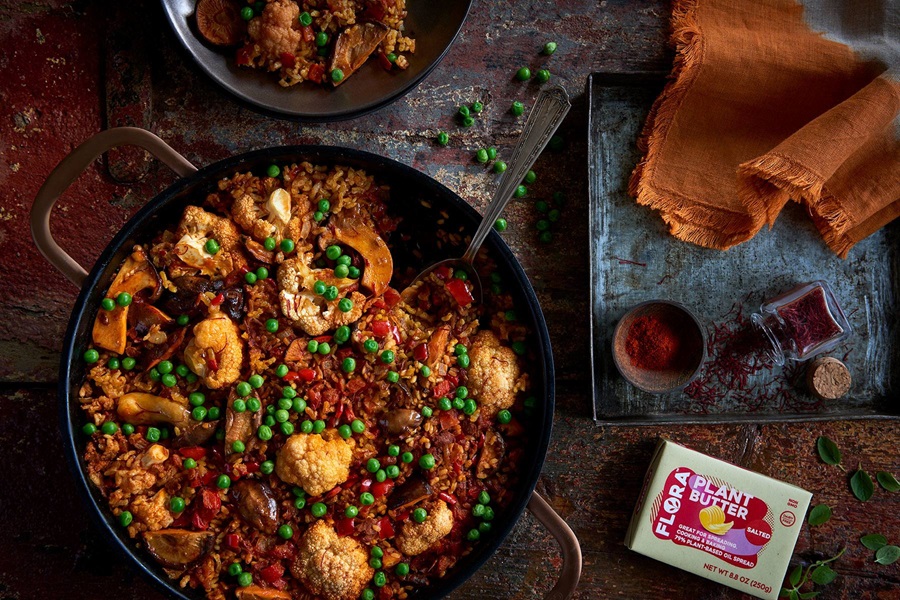 Ingredients
800 ml vegetable broth
1/2 tsp saffron threads
2 tbsp Flora Plant B+tter Spreadable
1 small onion, chopped
1 small red bell pepper, chopped
180 g soy chorizo or vegan chorizo-style sausages, removed from casing
2 plum tomatoes, chopped
4 cloves garlic, chopped
1/2 tsp smoked paprika
225 g paella rice, Bomba rice or arborio rice
450 g small cauliflower florets
150 g sliced mushrooms (about 3 cups) (we used shiitake, trumpet and baby portobello mushrooms)
75 g frozen peas, thawed
Instructions
1
Heat broth and saffron in medium saucepan.
2
In large deep skillet or paella pan, melt Flora Plant B+tter Spreadable over medium high heat and cook onion and pepper 3 minutes or until softened. Add soy chorizo and cook 5 minutes or until beginning to brown. Add tomato and garlic and cook 5 minutes, stirring frequently.
3
Add cauliflower and mushrooms and cook 3 minutes. Add rice and smoked paprika and stir to coat rice.
4
Slowly pour in broth and bring to a boil. Stir gently. Simmer uncovered 25 minutes without stirring. Cover and simmer 10 minutes. Sprinkle peas over paella. Cover and let stand 10 minutes or until rice is tender.
Lara Balsam