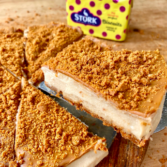 5 ingredient Biscoff cheesecake for Shavuot
A deliciously simple cheesecake made using
Stork
and Biscoff biscuits.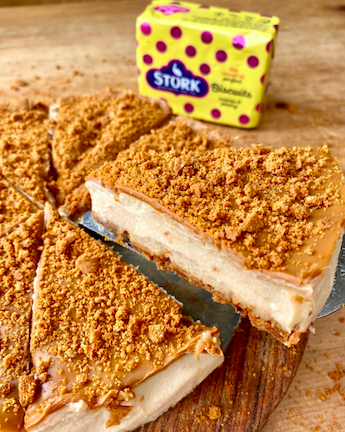 Ingredients
For the base:
150 g Biscoff biscuits
60 g Stork vegan baking block
For the filling:
100 g biscoff spread
500 g vegan cream cheese
30 g icing sugar
Instructions
1
Crush the Biscoff biscuits into a fine, crumbled texture.
3
Melt the Stork margarine, then mix with the biscuits.
4
Tip mixture into a springform pan, flatten, and leave to set in the fridge for 20 minutes.
5
Combine and blend the filling ingredients.
6
Once the base has set, pour filling over and smooth.
7
Leave to set in the fridge overnight.
8
To decorate, melt Biscoff and smooth over the top. Crumble and add biscuits as you please!
Lara Balsam