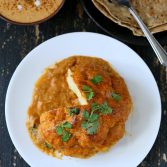 Gobi musallam
Gobi Musallam (cauliflower that has been roasted whole) is a fantastic centrepiece for any occasion. The whole cauliflower head is lightly blanched then drenched with the luscious Mughlai-inspired makhani sauce and baked. The makhani sauce is decadent, creamy, buttery, and fantastic. You can serve the cauliflower as is, or sliced with some sauce on the side, or with naan or other flatbread, salads, rice, or quinoa. For a quicker cook time, cook cauliflower florets and the blended sauce in a skillet over medium heat for 15 to 20 minutes. To make nut-free: Use 3 tablespoons coarsely ground pumpkin or sunflower seeds. Or use 1/4 cup coconut cream mixed with 2 teaspoons cornstarch.
Recipes and photos from Vegan Richa's Indian Kitchen, copyright © 2015 by Richa Hingle. Used by permission from Vegan Heritage Press, LLC (see page 31).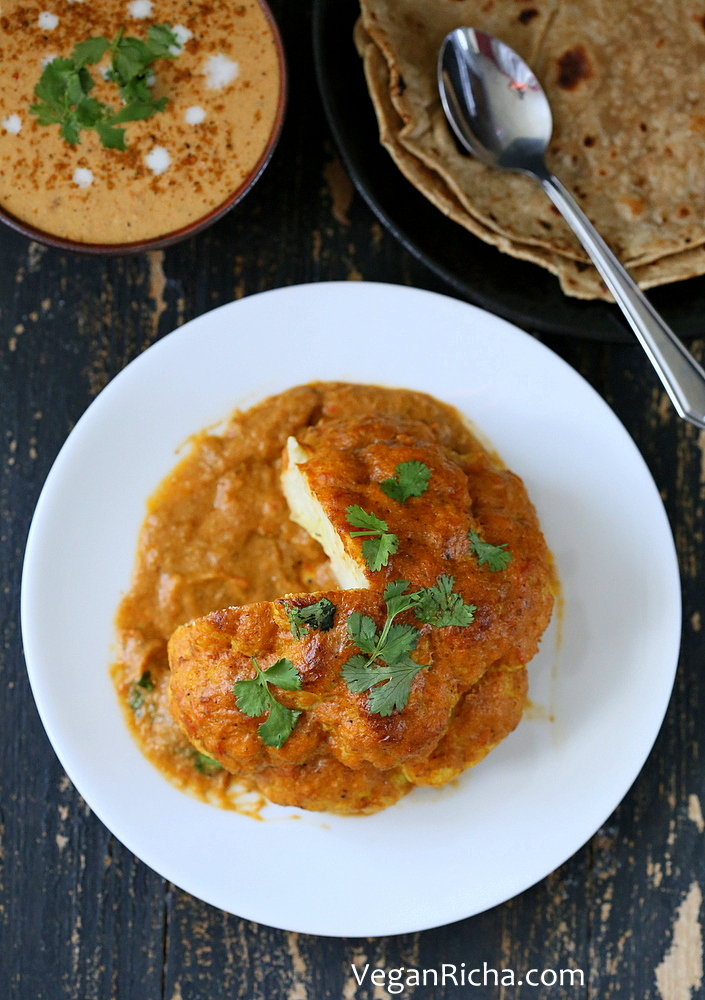 Ingredients
For the cauliflower:
1 medium head cauliflower (leaves and tough stem removed)
2 tsp salt
1/2 tsp turmeric powder
1/2 tsp cayenne (optional)
For the sauce:
2 tsp neutral oil
3/4 cup red onion, chopped
1 inch knob of ginger, chopped
6 cloves garlic, chopped
1 dried red chilli or 1/2 tsp red pepper flakes
1 tsp garam masala
1/2 tsp ground cumin
1/2 tsp ground coriander
1/2 tsp ground turmeric
3 medium tomatoes, chopped
3/4 tsp salt, or to taste
1/4 tsp raw sugar or 1/2 tsp maple syrup
1 tbsp dried fenugreek leaves or 1/4 tsp fenugreek seeds
3/4 cup coconut milk
1/3 cup cashews, soaked for 30 mins
Instructions
1
Cauliflower: Bring a large pot of water to a boil. Use enough water so the entire cauliflower can be immersed in it. Add salt, turmeric and cayenne (if using) to the water. Place the cauliflower in the boiling water. Cover and cook for 3 minutes, then flip and cook for 3 minutes. Blanching ensures that the center of the cauliflower gets cooked through during roasting.
2
Make the sauce: Heat the oil in a large skillet over medium heat. Add the onion and cook until golden, 6 to 7 minutes. Add the ginger, garlic, and chile and cook for 2 minutes. Stir in the garam masala, cumin, coriander, and turmeric and mix. Add the tomatoes, salt, sugar, and fenugreek leaves. Mix well, then cover and cook until saucy, stirring occasionally, 8 to 9 minutes. Mash the larger tomato pieces.
3
Cool slightly, and then transfer to a blender. Add the coconut milk and cashews and blend into a smooth thick puree. Add a few tablespoons of water if the sauce is too thick. Taste and adjust the salt and spices, if needed, and set aside. Preheat the oven to 400°F / gas mark 6.
4
Oil a baking dish, if desired. Place the blanched cauliflower in the baking dish. Pour some puree between the florets by separating the florets with your hands and letting the sauce flow in. Slowly pour the thick purée on top to cover the entire head of the cauliflower. Some sauce will fall on the side. Keep about a third or a quarter of the sauce to serve on the side later.
5
Bake for 30 minutes, then turn the dish around, drizzle some more sauce on the cauliflower and bake another 15 minutes. Bake until the cauliflower is dry to touch, a toothpick goes through easily, and the sauce on the side thickens a bit.
6
Heat the remaining sauce over medium heat to just about a boil and serve on the side. To serve, slice a large chunk of the cauliflower. Dress with sauce.
jvs