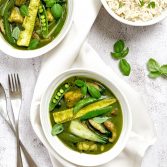 Thai green tofu curry
Fresh, light and fragrant this curry by Christine Bailey is super easy to make from scratch and the addition of tofu provides plenty of protein. It is much easier than you think to make up your own Thai curry paste – everything is placed in a nutri bullet and processed until smooth. I have added a selection of vegetables to this curry which you can vary depending on taste and what you have available. The paste can be made ahead and kept in the fridge for 3-4 days. It can also be frozen in ice cubes so you could make up a batch ready for creating delicious curries in a hurry. Adding chlorella (optional) at the end of cooking gives the soup a wonderful deep vibrant green colour. 
Nutrition per serving 235kcal, Fat 14.3g, Carbohydrates 13.1g, Protein 12.2g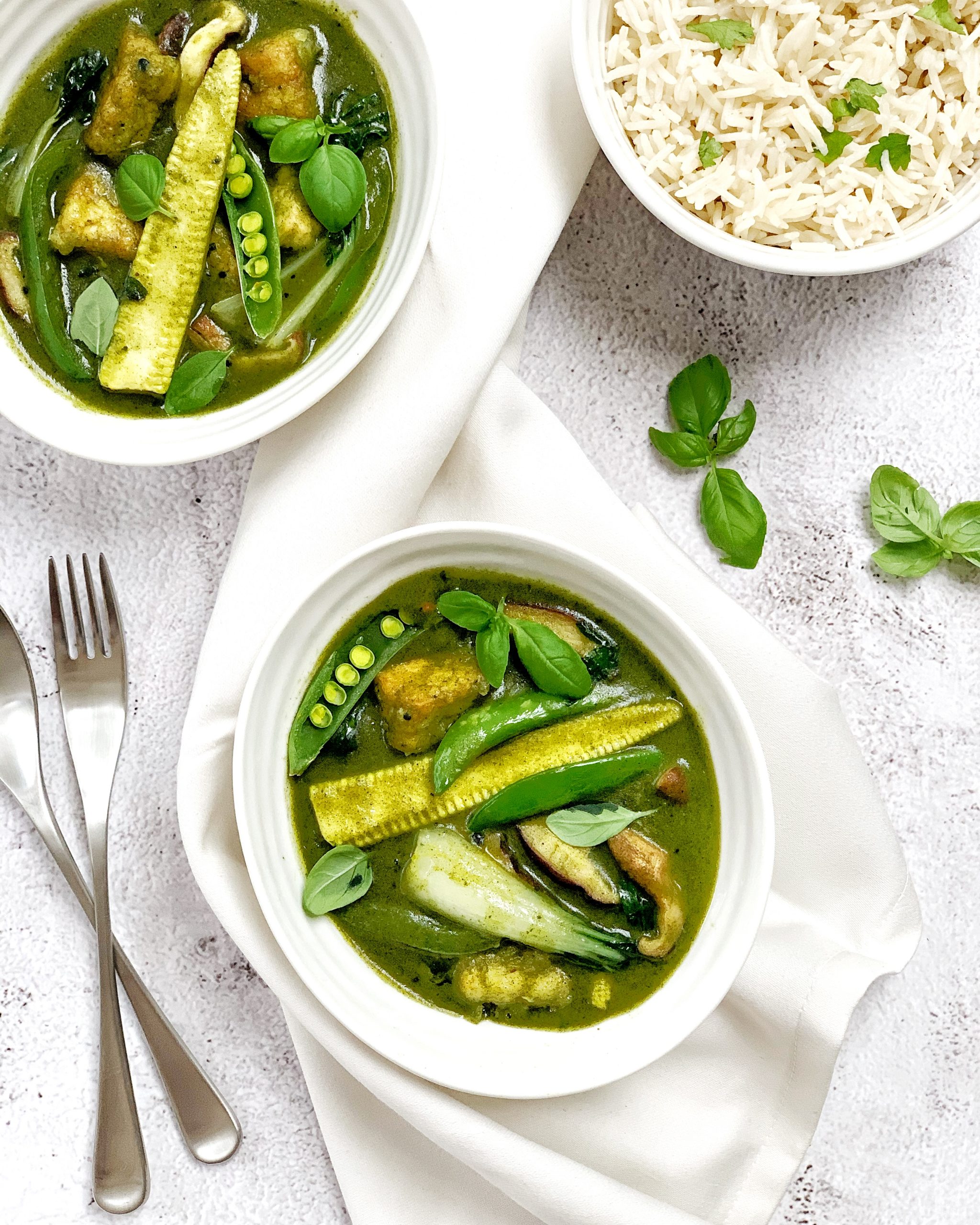 Ingredients
For the curry paste
Handful of coriander leaves
2 garlic cloves
1 small onion chopped
½ tsp fresh root ginger
1 green chilli – de-seeded
2 lemongrass stems, chopped
1 tsp ground cumin
1/2 tsp ground turmeric
1 tbsp tamari soy sauce
Juice of ½ lime
2 tsp xylitol or maple syrup
1 tbsp vegan 'fish sauce'
For the curry
350 g tofu, firm
2 tbsp cornflour
1 tbsp olive oil
400 g can light coconut milk
60 ml vegetable stock
125 g shittake mushrooms, sliced
10 baby sweetcorn, halved lengthways
1 green pepper thinly sliced
100 g sugar snap peas
2 Pak choy, leaves separately
2 Kaffir lime leaves
1 tbsp tamari soy sauce
1 tsp 'vegan fish sauce'
½ -1 packet (3-6g) of sun chlorella powder
2 tsp cornflour
Black pepper
Fresh Thai basil or coriander leaves to garnish
Cooked Basmati rice to serve
Instructions
1
Make the curry paste. Place all the ingredients in a blender or nutri-bullet with a little of the canned coconut milk and blend to form a thick sauce. 
2
Place the tofu between kitchen paper (or clean kitchen towel) and press to remove any excess moisture. Cut the tofu into 2cm cubes. Place in the bowl and add the cornflour. Toss to coat in the cornflour. 
3
Heat the oil in a sauté pan until hot. Add the tofu in batches and cook until golden. Remove from the pan and place on a plate. Add the mushrooms to the pan and sauté for a minute until soft then remove and place on the plate with the tofu. 
4
In the same pan add the curry paste and heat for a couple of minute. Add the coconut milk, stock, vegetables and kaffir lime leaves and gently simmer for 5 minutes.
5
In a small bowl place the chlorella (optional), soy sauce, vegan 'fish' sauce and cornflour. Add 1 – 2 tbsp water and mix to form a paste. 
6
Pour in the chlorella paste with the tofu and mushrooms and heat through. Season with black pepper.
7
Serve with rice and garnish with basil leaves and/or coriander.
Lara Balsam