Creamy Mushroom Soup, (without the cream!)
A wonderfully easy soup to make that transforms basic store cupboard ingredients in to a sumptuous, velvety soup – perfect for autumn/winter.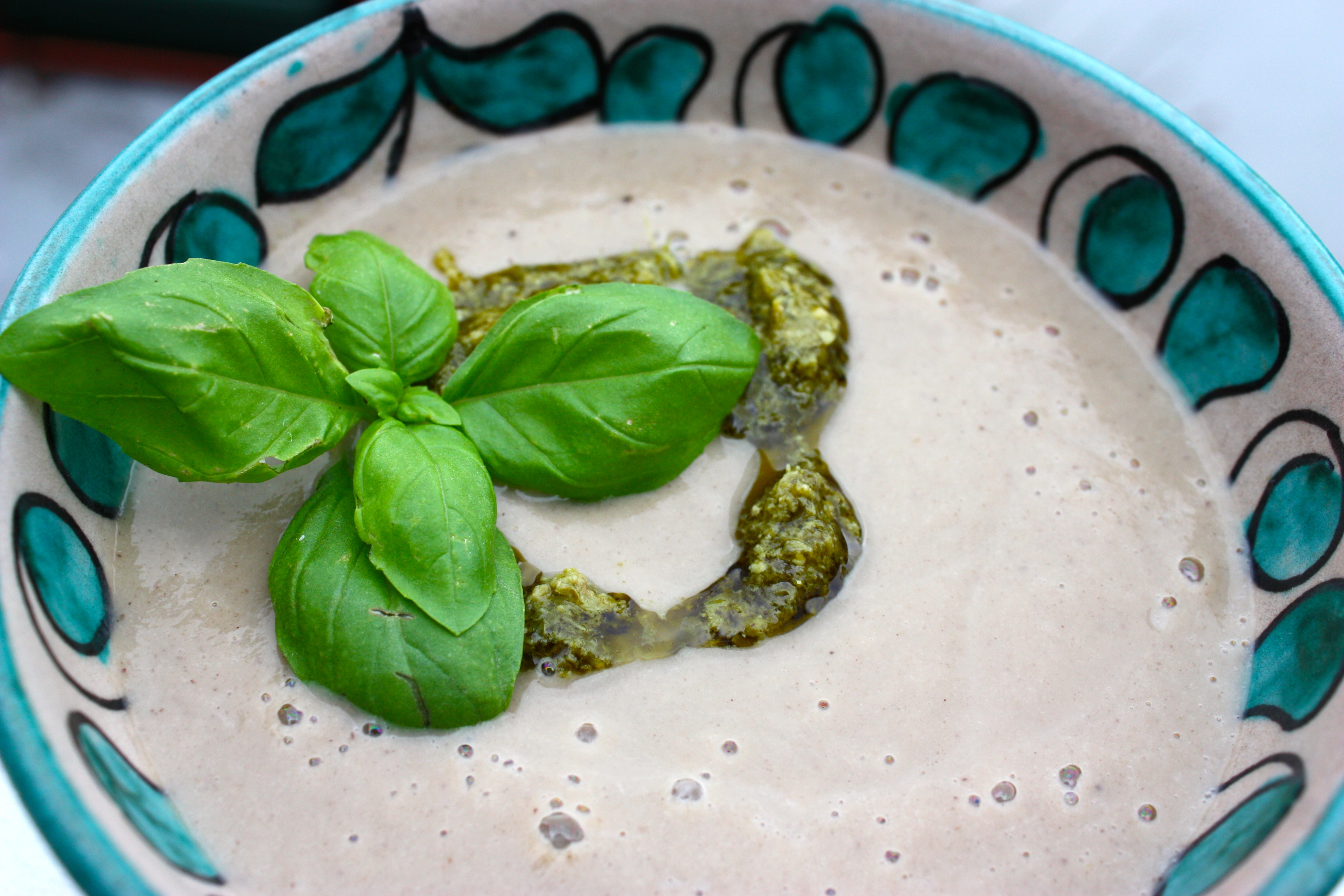 Ingredients
Handful of dried mushrooms, soaked for 15-20 minutes in
boiling water
2 tbsp herb infused good quality olive oil
1/2 large white onion, finely chopped
3 large cloves of garlic, peeled and finely sliced
320 g fresh chestnut mushrooms, cleaned and sliced
4 tsp vegetable bouillon (stock powder)
600 ml cold water
A few tbsp pesto
Handful of fresh basil
Sea salt and freshly ground black pepper
Instructions
1
Start by placing your dried mushrooms in mug full of boiling water. Leave them to soften up whilst preparing all of the vegetables; finely dice the onion, finely slice the garlic, and slice the mushrooms. I clean mushrooms with a vegetable brush or peel them with a small sharp knife. Avoid immersing them in water as they absorb it all.
2
Add the olive oil (I have a few bottles on the go infused with different homegrown herbs) to a medium-sized saucepan and gently heat. Add the onions and garlic immediately. Cook on a gentle heat for 5-7 minutes / until the onion becomes translucent. Next, add the chestnut mushrooms and bouillon powder.
3
Keep stirring every so often. Once the mushrooms have become tender, add the pre-soaked dried mushrooms, stir, add water, bring to the boil, cover with a lid and cook for a further 15 minutes. Allow the soup to cool slightly before pouring in to a blender. The key to getting a creamy soup is blending it for a long time. Remember to give your blender a break every 40-60 seconds. In total I blend for 2.5 minutes. Transfer the soup back to the saucepan, warm through, and season as desired. To serve: drizzle a little homemade pesto and add some fresh basil.
Lara Balsam