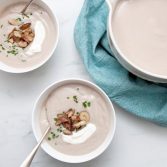 Chestnut and cauliflower soup – for Pesach
This recipe is from the Jewish Chronicle.
A dairy-free soup with a satisfyingly creamy texture.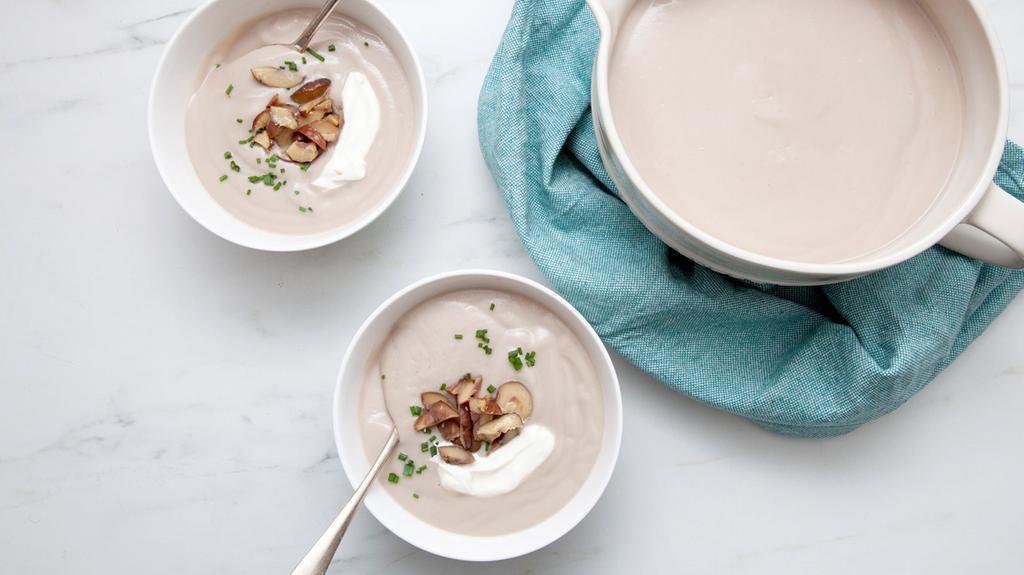 Ingredients
Soup
2 tbsp rapeseed oil
1 extra-large cauliflower, cut into small florets (keep the leaves!)
3 leeks, trimmed finely sliced (400g)
400g chestnut puree (I recommend Merchant Gourmet)
2 tbsp rapeseed oil
2 pints boiling water
2 vegetable stock cubes gluten & yeast free (vegan if required for dairy-free)
white pepper
Herbamare salt or sea salt
Garnish
Whole cooked chestnuts, sliced
Crisp roasted cauliflower leaves (method below)
Oil for drizzling
Instructions
1
Place a large 4 litre saucepan on the stove add the oil together with the leeks and sauté until soft and translucent, about 5 minutes, keep on a low/medium heat to prevent burning. Season with Herbamare or sea salt and white pepper. Add the chestnut puree and continuously stir to coat in the sautéed leeks. Then add the cauliflower florets and ensure that everything is coated when stirring.
2
Dissolve the stock cubes in the boiling water, add to the pan bring to the boil then simmer for 35 minutes with the lid on.
3
When the soup has cooled, blend until smooth and creamy. The longer you blend the creamier the soup will be. My top tip for a creamy soup, without adding cream, is to blend for as long as you can.
4
When ready to serve, add some sliced, roasted chestnuts, a drizzle of oil or alternatively garnish with some roasted cauliflower leaves.
5
To make the cauliflower leaf garnish — when cutting your florets from the cauliflower, keep the leaves, rinse them then dry them out. Place them on a roasting tray drizzle with a little olive oil, season and roast for 15-20 minutes on 200°C (fan). Half way through, give the leaves a stir to prevent burning.
Yael Tischler