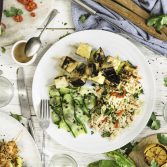 Chargrilled miso aubergine
Sweet miso coated aubergine, tofu and spring onion kebabs with a delicious pickled cucumber and hand-harvested seaweed salad, bursting with minerals including potassium, calcium and iron.
Macros: 525 calories • 50g carbs • 25g fat • 24g protein
Allergens: Sesame, soya, sulphites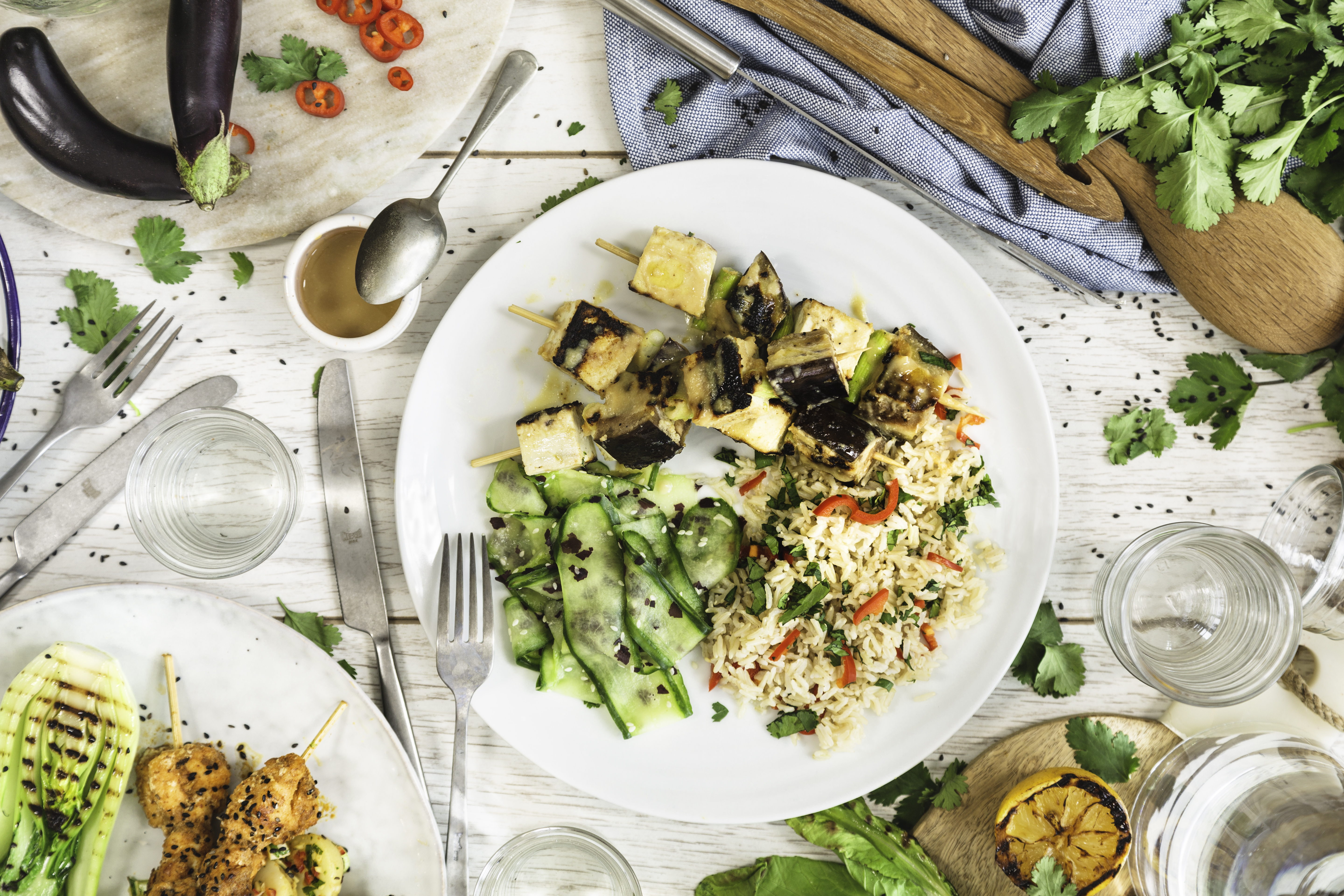 Ingredients
1/2 cucumber
1 aubergine
1 red chilli
1 tbsp organic seaweed salad
1 tsp maple syrup
1 tsp rice wine vinegar
280g firm tofu
2 tbsp sesame oil
2 tbsp sweet white miso paste
2 tsp black sesame seeds
4 spring onions
80 g brown rice
8 skewers
Large handful of fresh coriander
Instructions
1
Boil a kettle. Rinse the brown rice and place in a saucepan with 400ml boiling water and a pinch of sea salt. Simmer for 20-25 mins until cooked.
2
Using a peeler, slice the cucumber into long, thin ribbons. Place in a sieve and sprinkle over a little sea salt. Squeeze out any excess water, then place into a bowl with the rice wine vinegar and maple syrup to pickle.
3
Drain and rinse the tofu, pat dry with paper towel. Cut the tofu into 2 cm cubes (you don't want bigger pieces than these or they will take longer to cook). Cut the aubergine into 2 cm cubes so that they are the same size as the tofu. Slice the spring onions into 2 cm pieces also.
4
Thread a piece of tofu, aubergine and spring onion alternately onto each skewer. Use as many skewers as needed. Brush half of the sweet miso paste over the kebabs and brush with half of the sesame oil.
5
Heat the BBQ (or a griddle pan) to a medium-high heat and cook the tofu and aubergine skewers for 12-15 mins, turning occasionally until the aubergine has softened. Brush with a little more oil to prevent sticking.
6
Finely chop the red chilli (remove the seeds for less heat) and coriander leaves. Drain the brown rice and stir through the coriander and chilli. In a small bowl, mix together the remaining sweet miso paste and remaining sesame oil to form a sauce.
7
Remove the cucumber from the vinegar pickle and place on two plates, alongside the brown rice. Top with the miso aubergine and tofu kebabs, drizzle over the sauce and sprinkle over the black sesame seeds.
jvs