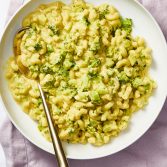 Broccoli Mac and Cheese – by Isa Chandra Moskowitz
Mac and cheese. Let's not waste time with formalities. This is obviously the first recipe you will be turning to, so no need to flip through the pages. It easily tops the list of things we can't live without, right after oxygen and cat videos. So what's up with vegan mac and cheese? The short answer for the twenty-first century: cashews and nutritional yeast. Those are ingredients I use often to achieve creamy cheesiness, so let's get familiar with them—stat. I love this particular recipe for new vegan cooks because the most important part (the sauce, duh) needs no cooking and takes about 2 minutes to pull together. It also includes my favorite vegetable, broccoli. (Yes, I am that basic.) It's chopped into small pieces and available in every creamy, dreamy bite. The method is also really simple and features every cook's favorite: "one pot." You simply add the broccoli to the pasta in the last few minutes of cooking. So yeah, this is a great place to start. It's really perf served with 2 tablespoons of Noochy Baked Tofu (page 281). I like a little smoky heat, but if you aren't down with that, try smoked paprika instead of the chipotle powder. And if you are not even down with a little smoke, try regular paprika. But that will make you a very boring person!
Recipes from the recently released I Can Cook Vegan by Isa Chandra Moskowitz (Abrams, £22.99)
Photographs © Isa Chandra Moskowitz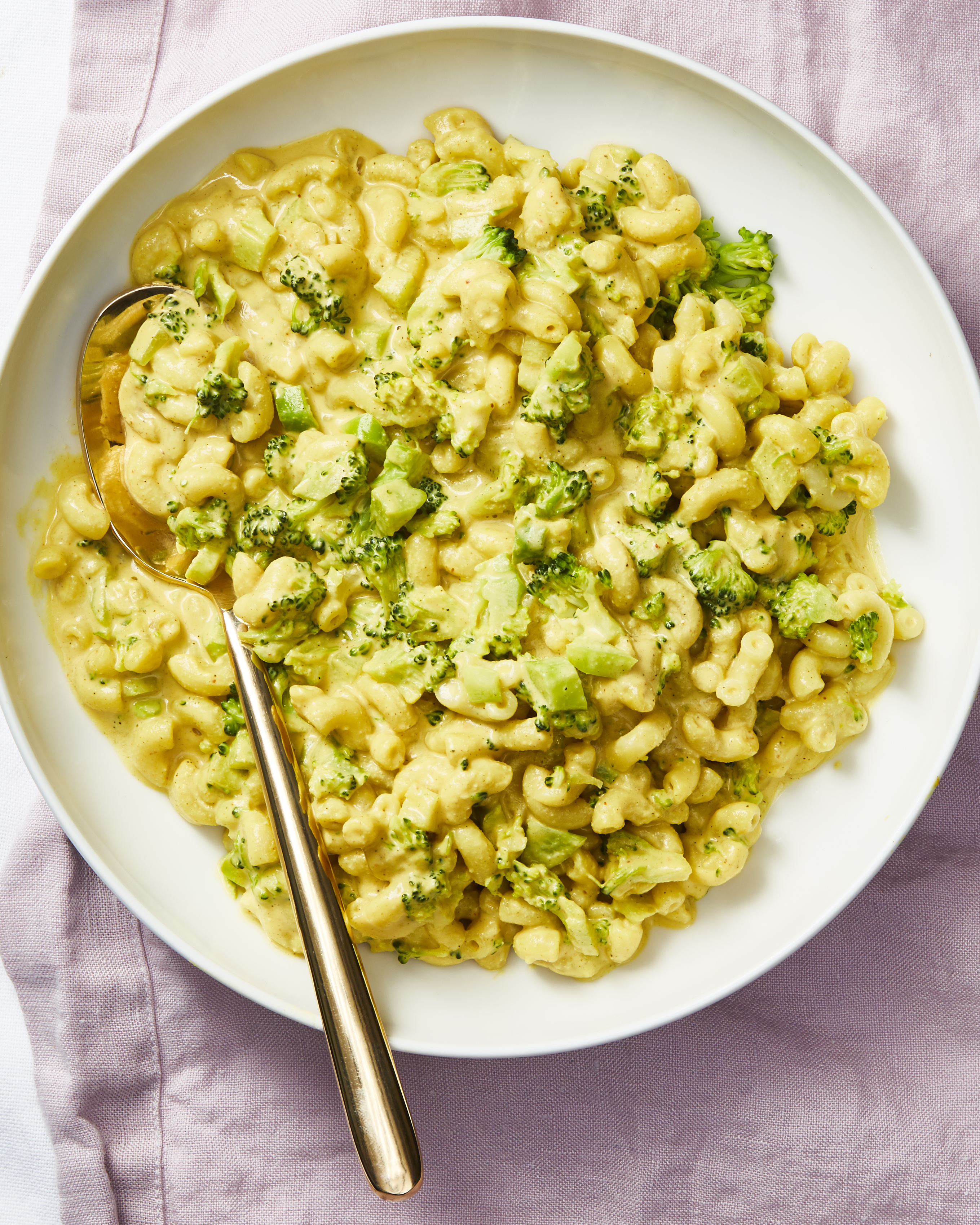 Ingredients
455g pasta (chiocciole, medium-size shells, or, ya know, macaroni)
6 cups (425g) finely chopped broccoli
For the cheese sauce
1 cup (120g) whole unroasted cashews
1 cup (240ml) vegetable broth/stock
¼ cup (35g) nutritional yeast flakes
¼ tsp ground turmeric
1 tbsp fresh lemon juice
¾ tsp chipotle powder (see headnote)
1 tbsp onion powder
¼ tsp salt
Instructions
1
In a large pot, bring 3.8 litres of salted water to a boil for the pasta.
2
While the water is coming to a boil, make the sauce: Place all the sauce ingredients in a high-speed blender and blend for about a minute or until completely smooth, using a rubber spatula to scrape down the sides every 20 seconds or so.
3
Cook the pasta in the boiling water for about 5 minutes, then add the broccoli. Boil until the pasta is cooked, stirring often with a slotted pasta spoon, 3 to 5 minutes.
4
Drain the pasta in a large colander and immediately return it to the pot. It should still be piping hot and wet with the cooking water. Do not rinse and do not wait. This part is important because you need the wet, hot pasta to help make the sauce creamy an awesome and cling to the noodles.
5
Add the sauce to the pasta pot and use the rubber spatula to blend. Turn the heat on low and stir for about 2 minutes to get everything warmed through. Taste for salt and seasoning, then serve.
Lara Balsam