Beetroot latkes – Chanukah
The trick to getting the perfect crispy texture is to remove all of the liquid; using a salad spinner to remove the liquid is an awesome, quick way to do this. I also use a food processor to do my grating; I've lost enough of my fingers that I prefer it, even if my dad swears the hand grated ones taste better. All three of these recipes were amazing. I served them with the traditional apple sauce and vegan sour cream, as well as some red chilli sauce and mango habañero salsa for a New Mexican flair.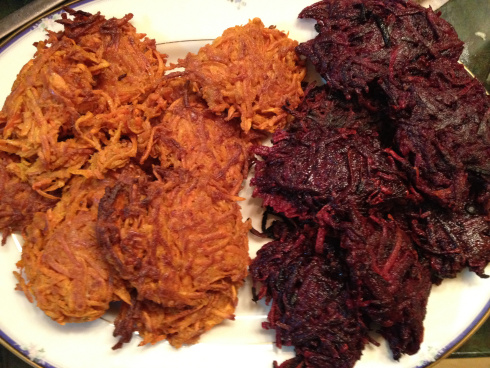 Ingredients
3 large beetroot, peeled
6 tsbp all purpose flour
1.5 tsp salt
1.5 tsp ground cumin
3/4 tsp ground coriander
3/4 tsp baking powder
1/4 tsp ground black pepper
Ener-G Egg Re-placer equivalent of 3 large eggs, beaten
Instructions
1
Grate your vegetables. Put into a salad spinner and spin vigorously to remove liquid (if you are feeling crafty, you can reserve the beetroot juice for a dye or food colouring). Put them into a large bowl.
2
Add in dry ingredients and toss to coat. Stir in beaten Ener-G Egg and combine evenly.
3
Heat oil, olive or canola, in a large frying pan. You can put one piece of grated vegetables in to test if it is hot enough – it will start to fry immediately when it is ready.
4
Form small patties and put into the oil. When the edges start to turn golden, they are ready to flip.
Lara Balsam