With Chanukah, the Jewish festival of lights, just around the corner, we wanted to share some of our favourite festive recipes.
We celebrate the miracle of a tiny bit of oil that lit the menorah in the Great Temple in Jerusalem lasting eight days instead of one, and we mark the holiday with family get-togethers, games and of course, food.
It is customary to make potato pancakes known as latkes as well as doughnuts, and other oily treats.
One of our favourite vegan doughnut recipes is courtesy of actress Mayim Bialik.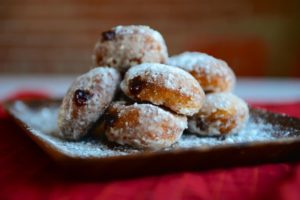 When it comes to latkes, we can't recommend this one from Lazy Cat Kitchen enough. Aquafaba (chickpea water) takes the place of eggs to make an incredibly moreish, chewy latke. These taste great with apple sauce or with sour cream. The blog has a great recipe for one using cashew nuts. Don't miss the instructional video.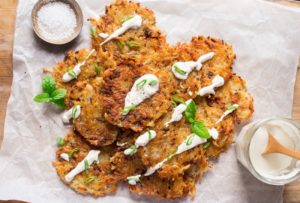 For a lighter version, why not try Jewish Food Hero's sweet and savoury latkes? Made with sweet potato and parsnips, these treats don't use oil and aren't fried. You could try adapting the recipe using seasonal vegetables.
The Vegetarian Society has a great list of what's in season in the UK here.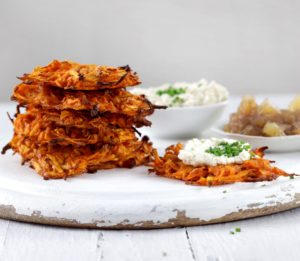 For a main meal that is warming, full of flavour and packed with protein, we love this goulash recipe from the Jewish Food Hero website's community section.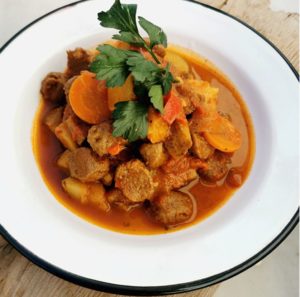 Ever wanted to try your hand at baking your own challah? We love Jemma Jacobs' recipe which produces a delicious, light and fluffy dough.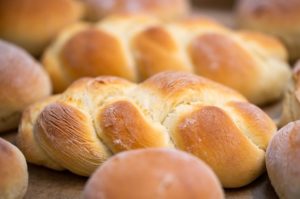 We hope you have fun trying out new recipes. Tag us on instagram @JewishVegSoc, we would love to see your creations.
From all of us at JVS we wish you a very happy Chanukah.