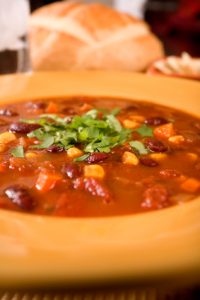 This chilli contains no meat, hence the name "non carne" instead of "con carne". It's easy to throw together using mostly store cupboard ingredients. A sprinkle of fresh coriander adds a bit of zing.
Ingredients
2 tablespoons sunflower or vegetable oil
1 large onion, chopped
½ courgette, chopped in half lengthways, then sliced
2 – 3 cloves garlic, crushed
½ red pepper, chopped
225 g veggie mince (e.g. Linda McCartney Foods' "Vegemince")
2 x 400 g tins chopped tomatoes
1 tablespoon tomato purée
½ teaspoon mild chilli powder (or more according to taste)
1 teaspoon paprika
1 teaspoon cumin
1 x 325 g tin sweetcorn, rinsed and drained (approx)
1 x 425 g tin of cooked kidney beans, rinsed and drained (approx)
fresh coriander, chopped
Instructions
Fry onion and red pepper in oil until soft.
Add the garlic and courgette and cook for a few minutes.
Add the mince and spices and fry for 4-5 minutes, stirring constantly. (If the mixture sticks, add some of the tinned tomato juice.)
Add the tinned tomatoes and tomato purée, stir well and simmer for 10 minutes over a low heat.
Add the sweetcorn and kidney beans to the chilli and cook for a further 2-3 minutes.
Sprinkle some coriander on top and serve with a green salad, and rice or fresh crusty bread.