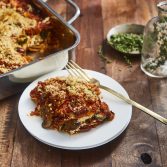 Your first vegan lasagne – by Isa Chandra Moskowitz
If you've never made a vegan lasagne, this is where to start. Tofu ricotta, garlicky spinach and mush­rooms, and bursts of Kalamata olives . . . it's so saucy that there's no need to precook the noodles because they'll cook right there in the casserole. Packed with flavour, so so easy, and possibly even better as leftovers.
Recipes from the recently released I Can Cook Vegan by Isa Chandra Moskowitz (Abrams, £22.99). Photographs © Isa Chandra Moskowitz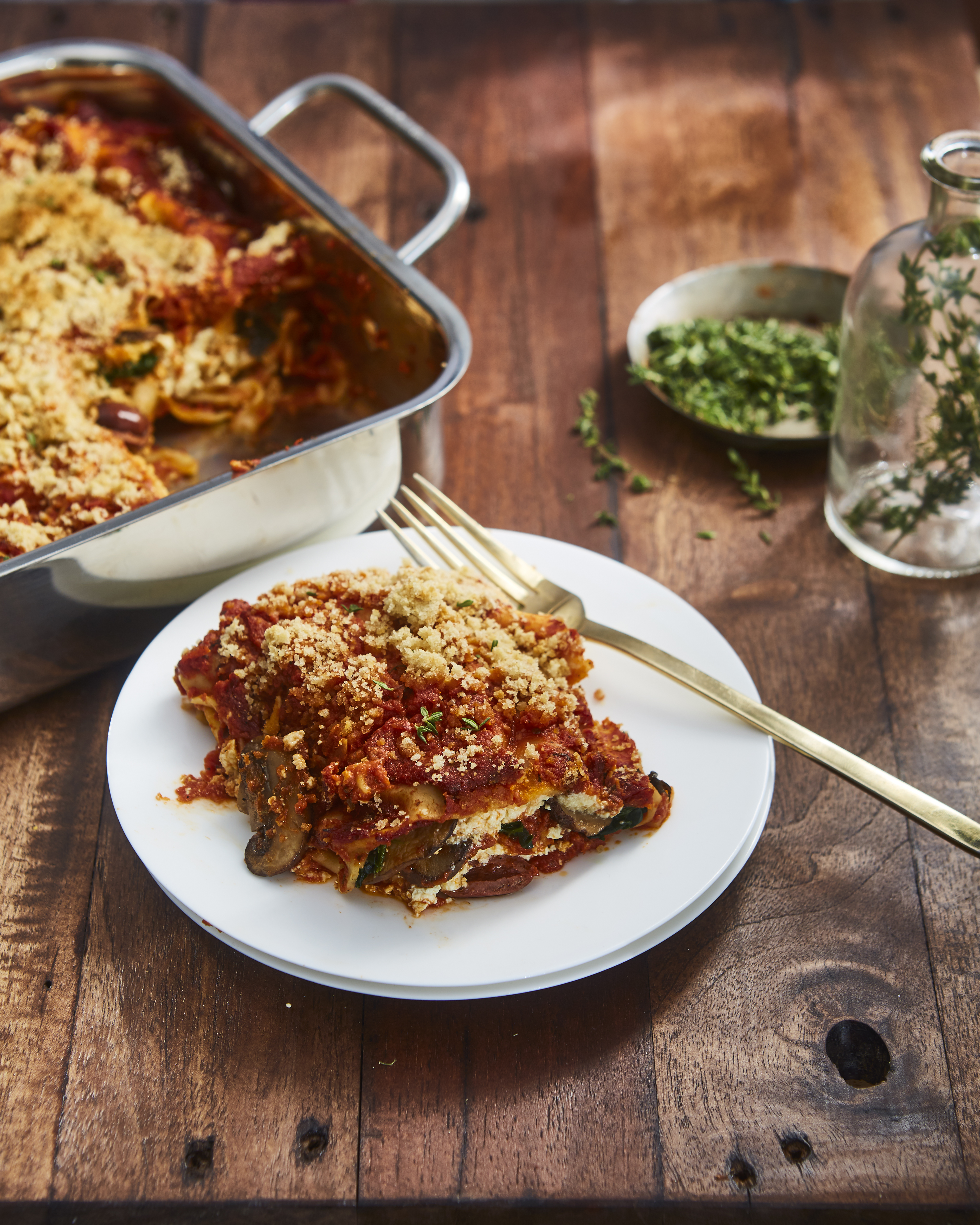 Ingredients
For the spinach and mushroom filling
4 cloves garlic
2 tbsp olive oil
455g cremini mushrooms, thinly sliced
2 tbsp fresh thyme leaves
155g pitted Kalamata olives, sliced in half
455g bag baby spinach
For the tofu ricotta
400g block extra-firm tofu, crumbled
35g nutritional yeast flakes
2 tbsp olive oil
2 tbsp fresh lemon juice
1 tsp salt
Freshly ground black pepper
2 litres marinara sauce
1 (400 g) box lasagne sheets
200g breadcrumbs
2 tbsp olive oil
2 tbsp chopped fresh thyme or fresh flat-leaf parsley, for garnish (optional)
Instructions
1
Make the filling: Preheat a large pan over medium heat. Sauté the garlic in olive oil for about 30 seconds. Turn up the heat, add the mushrooms and thyme, and sauté until lightly browned, about 7 minutes.
2
Toss in the olives. Turn off the heat and add the spinach in handfuls, tossing it until wilted. This might take a few rounds. Set the filling aside.
3
Make the ricotta: Using your hands (or an avocado masher), mash the tofu until it resembles ricotta. Add the nutritional yeast, olive oil, lemon juice, salt, and pepper to taste and continue to mash until well combined.
4
Preheat the oven to 190°C. Lightly grease the bottom of the casserole dish with olive oil. Ladle in a thin layer of marinara, then arrange a single layer of uncooked lasagne sheets over the sauce. Ladle in another layer of sauce that is about 12 mm deep. Then arrange half of the filling on top of that and spoon in half of the ricotta in scattered dollops. Over the ricotta, ladle in another ½-inch (12 mm) layer of sauce, then repeat layers of the lasagne sheets, mushroom filling, ricotta, sauce, and another layer of lasagne sheets. That will be the top layer.
5
Ladle plenty of marina sauce over the top layer. Tightly seal the lasagna in aluminum foil and bake for about an hour. In the meantime, mix the breadcrumbs with the olive oil in a mixing bowl.
6
Once the sheets are tender, remove the foil. Scatter the breadcrumbs over the top and bake, uncovered, for an additional 20 minutes. Garnish the lasagna with fresh thyme or parsley, if desired, and serve!
Lara Balsam