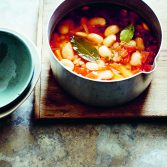 Sopa de avikas: White bean soup with tomatoes and chilli
Similar to the well-known Greek
fassolada
, this soup was  adopted by Jews all over Greece, who often served it for the Sabbath lunch, since it could be cooked very slowly overnight. This recipe comes from Thessaloniki, where they like to spike the soup with chilli. It is usually made with large white beans called
gigantes
. If they are unavailable, cannellini or butter (lima) beans may be used instead.
Recipe from the recently released book Hazana: Jewish Vegetarian Cooking by Paola Gavin (Quadrille, £20.00) Photography by Mowie Kay.
Ingredients
300 g (1 ½ cups) dried gigantes, cannellini or butter (lima) beans
2 garlic cloves, finely chopped
l large onion, chopped
1 small red chilli, de-seeded and finely chopped
250 g (9oz) ripe tomatoes, peeled and chopped
0.5 tsp dried oregano
2 bay leaves
large handful of flat-leaf parsley, finely chopped
4 tbsp extra virgin olive oil
salt and freshly ground black pepper
lemon wedges, to serve
Instructions
1
Soak the beans overnight, then drain.
2
Place the beans in a large saucepan with 1.25 litres (5 cups) water
and bring to the boil.
3
Add the garlic, onion, chilli, tomatoes, oregano, bay leaves and half of the parsley.
4
Cover and simmer for 1.5 – 2 hours or until the beans tender, adding a little hot water if the soup seems too thick. Add the remaining parsley and
simmer for 5 more minutes.
5
Just before serving, stir in the olive oil, season with salt and black pepper and serve hot, with lemon wedges on the side.
jvs