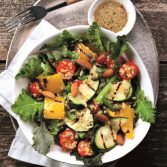 21st Century Salad
This up-to-the-minute salad is full of fantastic flavours and good-for-you ingredients, helping to take you towards your 10-a-day total for fruit and veg. It's great for vegans and vegetarians too. Brought to you by 
Pura Coconut Oil
.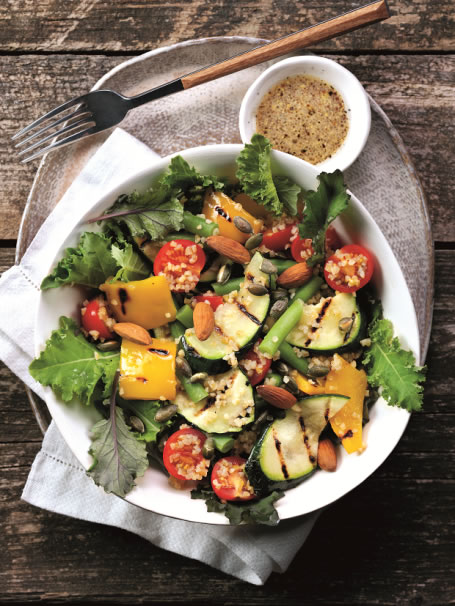 Ingredients
2 tbsp Pura Coconut Oil
2 courgettes, sliced diagonally
2 yellow peppers, deseeded and cut into large chunks
100 g bulgur wheat
100 g green beans, sliced
20 cherry tomatoes, halved
100 g baby kale or young spinach leaves
20 g whole almonds
20 g pumpkin seeds
For the dressing: 3 tbsp Pura Coconut Oil
For the dressing: 2 tbsp cider vinegar
1 tsp wholegrain mustard
Salt and freshly ground black pepper
Instructions
1
Heat a char-grill pan or the grill. Brush Pura Coconut Oil lightly over the slices of courgette and pieces of pepper. Char-grill or grill the vegetables, in batches if necessary, until just tender.
2
At the same time cook the bulgur wheat in lightly salted boiling water for about 12 minutes, until tender, according to pack instructions. Lightly cook the green beans in simmering water for 3-4 minutes. Rinse both with cold water and drain thoroughly.
3
Mix together the courgettes, peppers, bulgur wheat, green beans and cherry tomatoes. Share the baby kale or young spinach leaves between 4 serving bowls and spoon in the vegetable mixture. Sprinkle the almonds and pumpkin seeds on top.
4
Make the dressing by mixing together the Pura Coconut Oil with the cider vinegar, mustard and seasoning. Serve sprinkled over the salads.
For extra flavour, toast the almonds and pumpkin seeds in a dry frying pan over a high heat for 1-2 minutes, shaking the pan so that they toast evenly.
Try adding char-grilled asparagus to this recipe when it's in season – just brush the spears with Pura Coconut Oil as before, and cook for 3-4 minutes until tender.
Lara Balsam