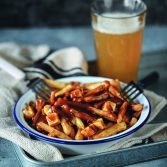 Poutine
Recipe from the newly released
Storecupboard Vegan by Laura Veganpower and Sébastien Kardinal.
Here are 300 easy, fast and inexpensive recipes that use ready-made vegan preparations
, such as tofu sausages, smoked tofu, seitan, tempeh, soy steaks, vegan cheeses, and dairy-free yogurt as well as regular storecupboard staples like tins  of chick peas or beans, lentils, pasta, rice, quinoa, couscous, gnocchi, miso and frozen vegetables. The authors of the highly acclaimed and widely reviewed Aquafaba, are back, and this time, it is the time-poor who will benefit from their culinary creativity.
*Each recipe from the book is designed to feed two people.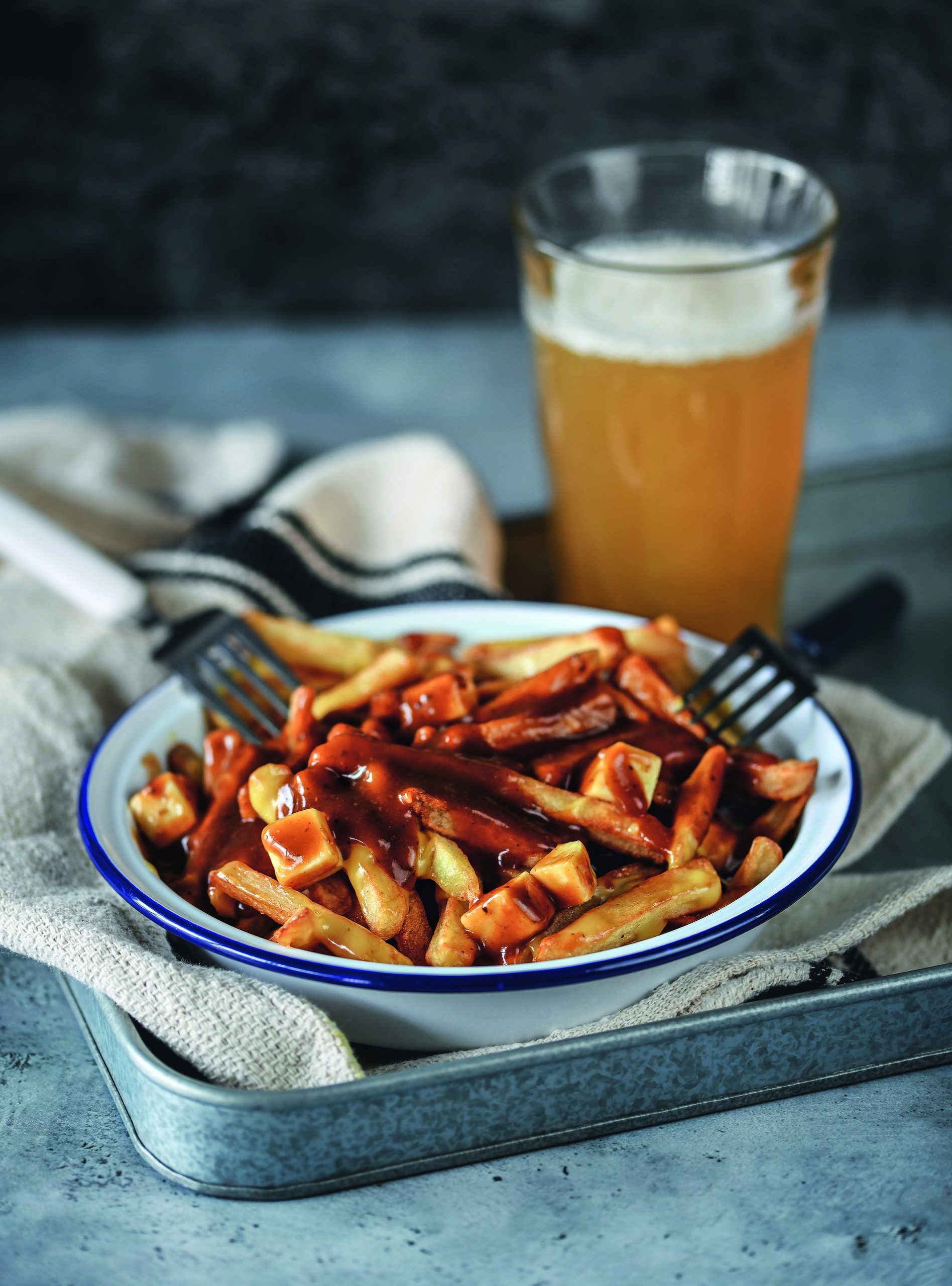 Ingredients
1 kg frozen chips
200 g vegan mozzarella (block)
30 g vegan margarine
2.5 tbsp frozen shallots
2 tsp chopped frozen garlic
1 tbsp apple cider vinegar
1 tbsp tomato purée
2 tsp Worcestershire sauce
2 tsp Dijon mustard
1 3⁄4 tbsp red miso
500 ml vegetable stock
3 tbsp cornflour
Instructions
1
Preheat the oven to 200°C (gas mark 6).
2
Spread the chips out on a baking tray and place in the middle oven shelf for 25 minutes.
3
Cut the cheese into cubes and set aside. In a pan, melt the margarine and sauté the shallots and garlic.
4
Deglaze with vinegar and add the tomato purée, Worcestershire sauce and mustard, then mix together.
5
Dissolve the miso in hot vegetable stock and pour into the pan. Leave to simmer.
6
Dissolve the cornflour in a little water and add to the mixture. Stir with a whisk until the liquid starts to thicken.
7
Pass the gravy through a conical strainer. Mix the chips and cheese on a plate, then top with the gravy.
Lara Balsam