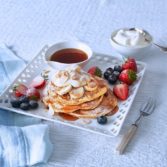 Pancakes with cinammon and nutmeg
Shrove Tuesday is creeping up on us once again and with the 1st of March just around the corner, what better way to kickstart the month than with a delicious stack of pancakes.
You'll flip over this vegan take on the American-style pancake stack by Flora Plant B+tter. These Vegan Pancakes are fluffy and have a touch of cinnamon and nutmeg to add a little spice to your morning.
This recipe swaps out dairy butter for vegan alternatives such as Flora 100% Natural Ingredients and Flora Plant B+tter. These are delicious, dairy-free alternatives to dairy butter that have the same creamy, rich flavour, but are made from natural ingredients – Flora Plant B+tter has half the climate impact of dairy butter*.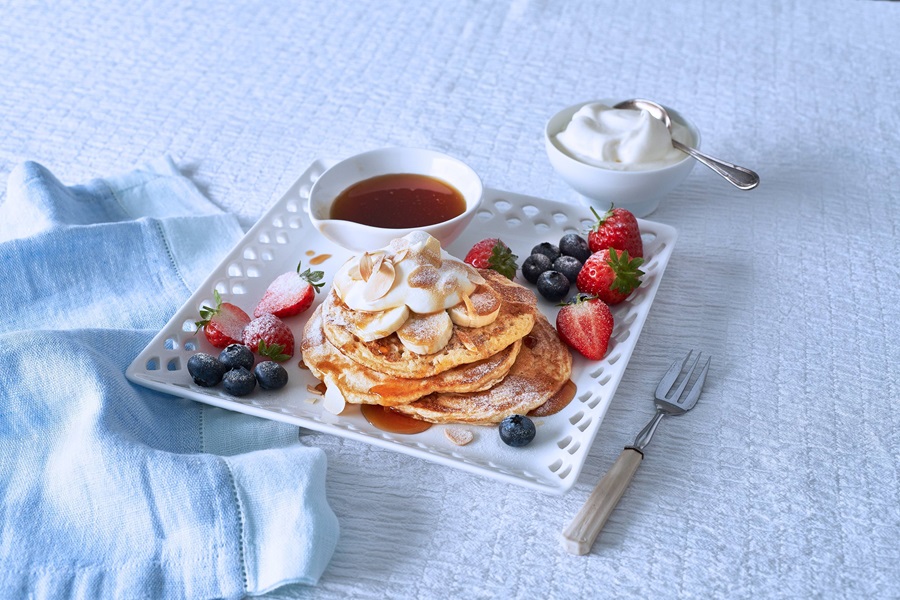 Ingredients
For the pancakes:
150 g self-raising flour
30 g golden caster sugar
1 tsp cinnamon
1 pinch of freshly grated nutmeg
1 teaspoon baking powder
150 ml almond milk
20 g Flora Plant B+tter unsalted
30 g Flora Plant B+tter unsalted for frying
Toppings:
100 ml Elmlea Plant Double
20 g icing sugar
Fruits of your choice plus toasted almonds and optional maple syrup to drizzle
Instructions
1
Place the flour, sugar, baking powder, and spices into a bowl and mix.
Add the almond milk and the melted 20g of Flora Plant B+tter and whisk until smooth.
Heat a non-stick pan and add a small knob of Flora Plant B+tter. Pour a small ladle full of batter into the pan and spread into a 10cm diameter circle. Cook until bubbles appear on the surface and carefully flip over and cook the other side until pale golden brown. Continue to cook further pancakes.
Whip Elmlea Plant Double and icing sugar to soft peaks.
Serve your pancakes with the fruits of your choice topping with Elmlea Plant Double, toasted almonds, and a generous drizzle of maple syrup.
Lara Balsam