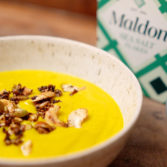 Immune-boosting, fridge foraged soup
Recipes created by Olia Hercules for Maldon Salt, part of the 'Feel Good Food' series running on
Maldon Salt social media
.
Showing you how to create extraordinary feel good food with Maldon Salt.
Photography by Maldon Salt.
—
I always have bits of ginger, chilli and turmeric lurking in the fridge and in the winter months, there is always a pumpkin too. I roast it whole – either in the wood-fired oven or the regular oven until it's soft inside. I don't bother to peel the ginger; I want the nutrients in the skin, plus it's undetectable. But if you want to peel yours – scaring the skin off with a teaspoon works best!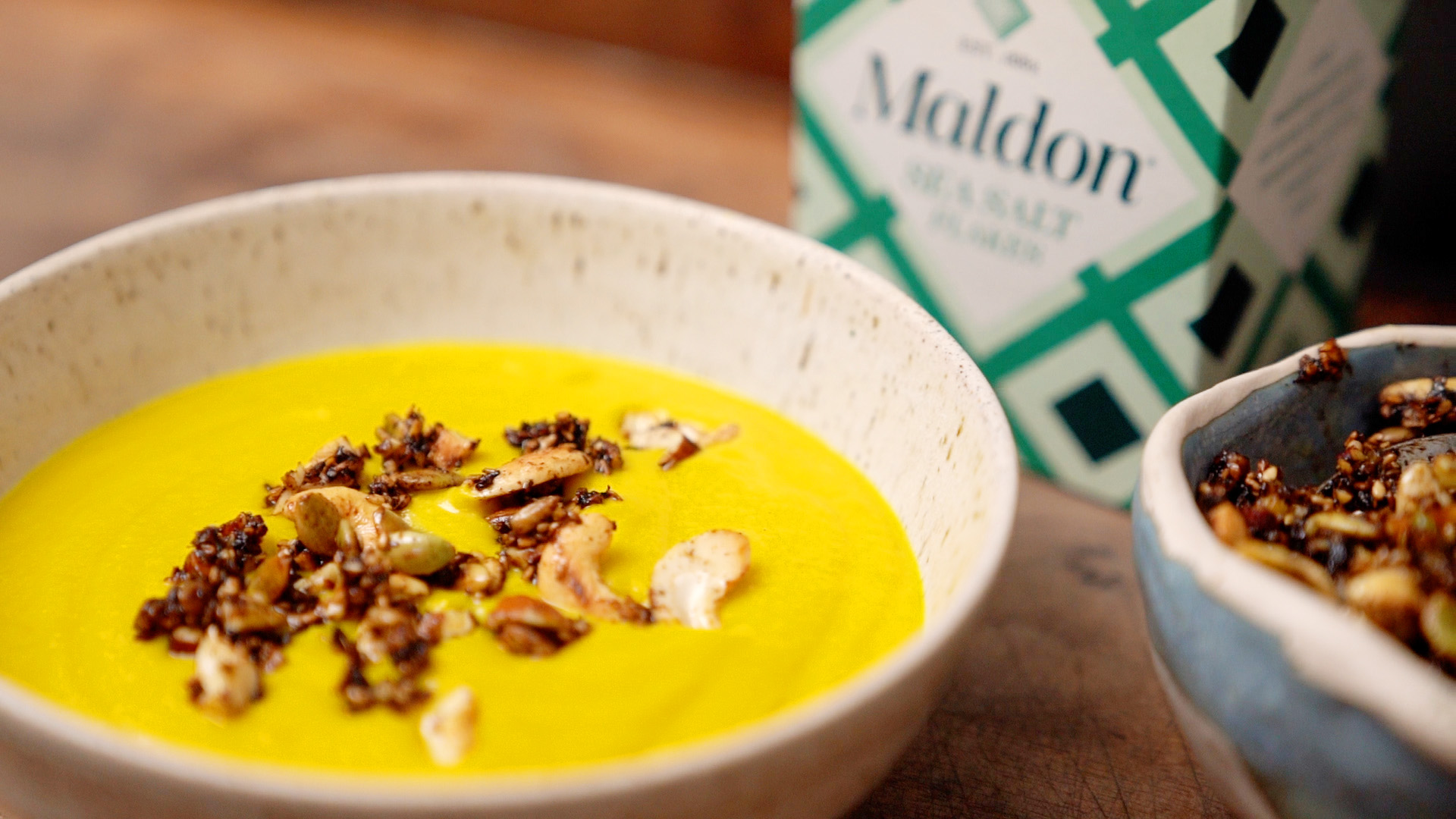 Ingredients
Vegetable offcuts including onion peel, carrot peels, celery
1 medium pumpkin or squash
2 tbsp coconut oil
1 onion, peeled and diced
1 large knob ginger
A few pieces of fresh turmeric (or 1 tsp turmeric powder)
50 g pumpkin seeds
1 tbsp liquid sweetener (i.e. maple syrup / agave)
Maldon salt
Some chilli flakes
Instructions
1
Preheat the oven to 180 C. Rub the pumpkin with some oil and place it in the oven and cook for about an hour. When it is soft, take it out and let it cool down enough to be able to handle, then peel off the skin, cut in half and get rid of the seeds. Put the flesh into a food processor.
2
To make the stock, place your vegetable offcuts into a stock pot and add about 1L of water. Bring to a boil and cook for about 30 minutes. Switch off the heat and let it stand.
3
For the pumpkin seeds, line a tray with some foil or baking parchment. Toss the pumpkin seeds in the honey, then sprinkle over Maldon salt. Bake in the oven at 180 C for about 10 minutes. Add the chilli flakes for the last 3 minutes of cooking.
4
Meanwhile, melt the coconut oil in a big pan and add the onion and a big pinch of salt, cook over a medium-low heat until soft and translucent. Grate the ginger and turmeric and add them to the onion.
5
Cook for about 5-10 minutes. Add the pumpkin flesh and some of the stock to the pan and blitz using a stick blender.
6
Serve with the sweet-salty-spicy pumpkin seeds sprinkled over the top.
Lara Balsam