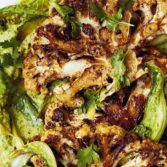 Fried chermoula cauliflower on herby bean dip with slaw
Ahead of this year's
Ideal Home Show in partnership with NatWest
we are pleased to share the following delicious recipe from Chef, Fairtrade and sustainability champion Melissa Hemsley's book Eat Green.
Essential kit: You will need a food processor.
The Ideal Home Show, in partnership with NatWest, the world's longest running exhibition, will return to Olympia London from Friday 11th to Sunday 27th March 2022. Melissa Hemsley will be on the Eat & Drink Stage on Friday 11th March. For more information and tickets, please visit idealhomeshow.co.uk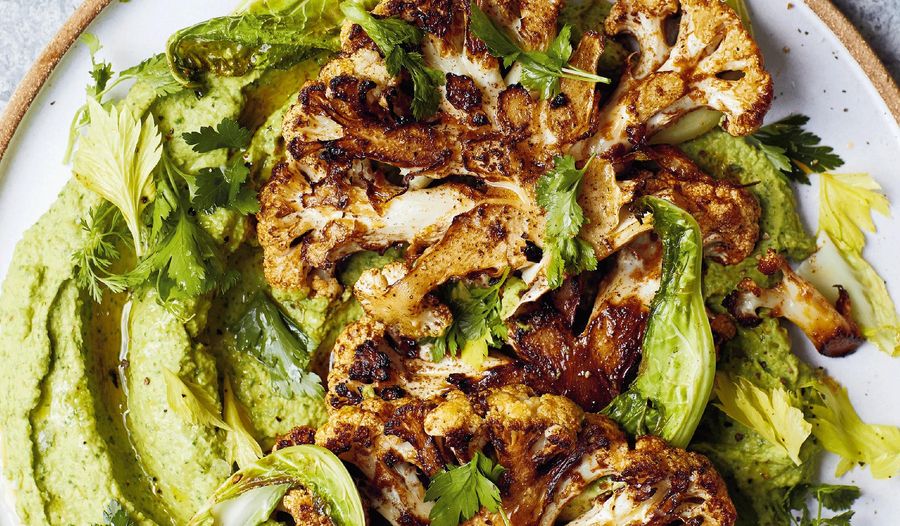 Ingredients
1 medium cauliflower, save the leaves (about 800 g)
2 tbsp oil
sea salt and black pepper
For the chermoula spice mix:
2 tsp ground cumin
1 tsp sweet paprika
2 tsp ground coriander
chilli flakes or ¼ tsp cayenne, to taste
For the herby bean dip:
240 g cooked white beans or chickpeas (1 × 400g tin, drained and rinsed)
1 garlic clove
2 tbsp tahini
juice of 1 lemon
1 big handful of a mix of fresh parsley and coriander, leaves and stems roughly chopped separately
extra virgin olive oil, to serve
For the slaw:
¼ red cabbage (150 g), finely shredded
1 green apple, cut into matchsticks
1 celery stick and leaves, sliced
2 tbsp extra virgin olive oil
1 tbsp apple cider vinegar
1 tsp mustard
Instructions
1
Preheat the oven to fan 220°C / Gas mark 9. Slice two 2–3cm thick steaks off the cauliflower and roughly chop the remaining cauliflower florets and the leaves, keeping them separate.
2
Mix together all the ingredients for the chermoula.
3
Put the cauliflower florets in a roasting tray with 1 tablespoon of the ghee or oil, half of the chermoula spice mix, sea salt and pepper. Roast in the oven for 15–20 minutes, adding the chopped cauliflower leaves halfway through and tossing everything together.
4
Melt the remaining ghee or oil in a large frying pan and fry the cauliflower steaks for 2 minutes on each side, then add the remaining spice mix and carefully turn again, coating the steaks in the spice. Cook for a further 2 minutes until just tender (you could now pop in the oven to keep warm).
5
Meanwhile, mix all the slaw ingredients together with the parsley and coriander leaves in a medium bowl and season to taste.
6
Blitz all the dip ingredients in a food processor with the parsley and coriander stems and taste for seasoning. Add 2–4 tablespoons cold water until nice and thick. Divide the green bean dip between the plates, drizzle with olive oil and top with the hot cauliflower steak and the florets and leaves. Serve the slaw on top or on the side.
7
Waste not: The dip is a delicious way to use up hardier parsley and coriander stems, saving the leaves for garnishing so there's no waste, just like the cauliflower leaves. You could also make this with broccoli steaks, aubergine wedges or squash, sliced into half-moons. Fennel and carrot would also be great in the slaw.
Lara Balsam