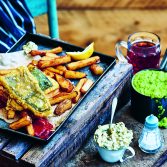 "Fish" & Chips with tartare sauce & mushy peas
When my "veganized" version of this British classic went viral on 
YouTube, lots of people found my channel from this video! 
It's a great treat and will fool any of your non-vegan friends.
Making your own creamy mayonnaise is really easy. The taste will leave you wondering why mayonnaise was ever made with eggs! I strongly recommend using a hand stick blender for this recipe:
Makes a 227 g (8 oz) JAR
120 ml (1/2 cup), unsweetened soy milk, 1 tsp apple cider vinegar, 1 tsp lemon juice, 240 ml (1 cup) rapeseed oil, pinch sea salt and white pepper.
Simply combine the milk, vinegar and lemon juice in a tall jug. Now, whilst blending, gradually drizzle in the oil. Keep blending until you've added all the oil and you have a creamy mayo-like consistency. Add seasoning to taste. This mayonnaise can be stored in sealed containers in the fridge for around a week.
Recipe excerpted with kind permission from the newly released Vegan 100 by Gaz Oakley (Quadrille, £20) Photography © Simon Smith.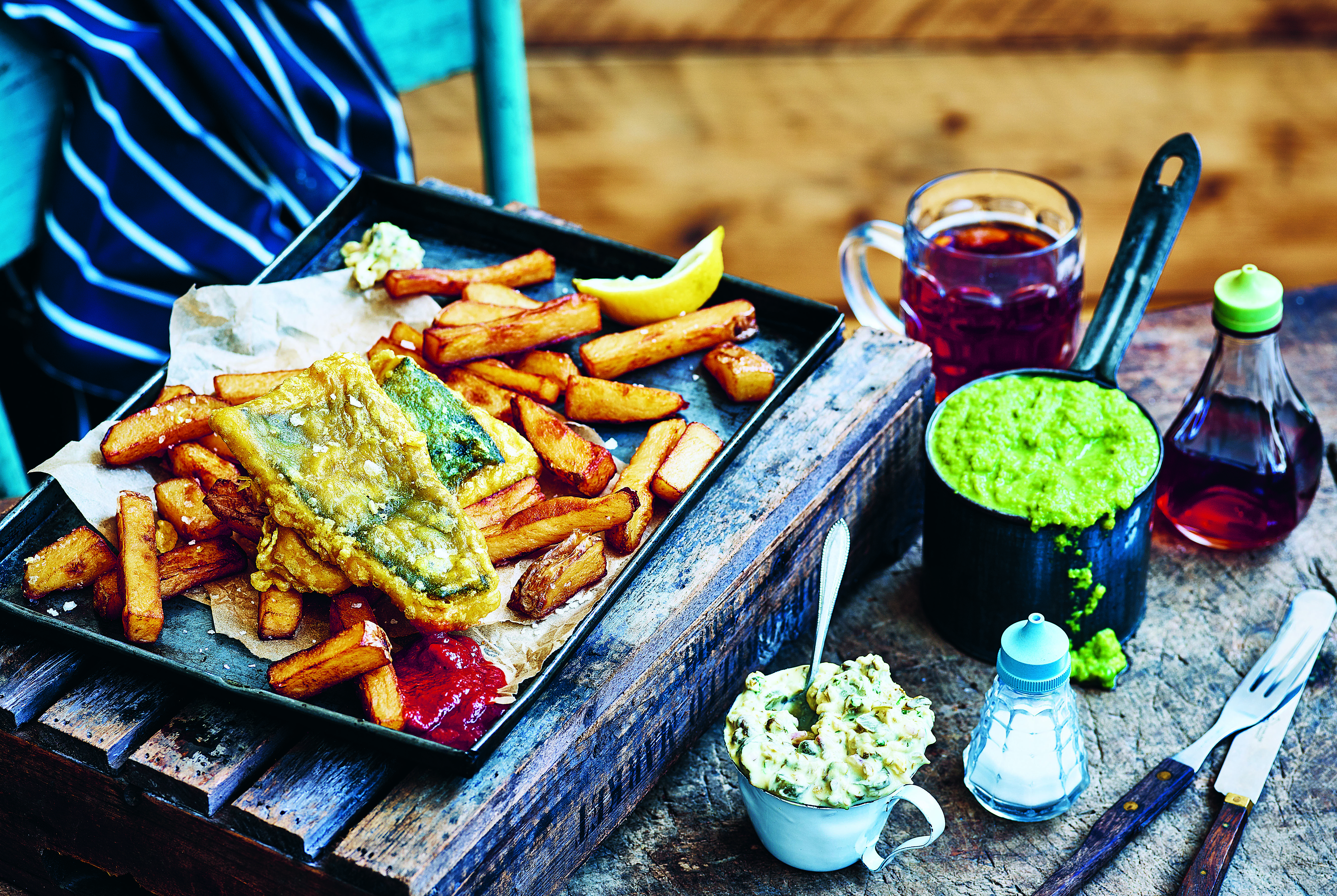 Ingredients
For the tartare sauce
250 g (1 cup) vegan mayonnaise (shop-bought or you can make your own, see above).
3 tbsp capers, drained and roughly chopped
3 tbsp roughly chopped gherkins
1 small shallot, finely chopped
1 tbsp fresh lemon juice
3 tbsp chopped fresh parsley
pinch sea salt and pepper
For the chips:
5 medium Maris Piper potatoes
2 tbsp plain all-purpose flour
4 tbsp olive oil
pinch sea salt and pepper
For the "fish":
approximately 1 litre / 4 cups sunflower oil
1 x 400 g (14 oz) firm block of tofu, drained and
excess water removed
1 large (20 x 18 cm /8 x 7 inch) sheet of nori seaweed
juice of 1 lemon
50 g (1/4 cup) plain all-purpose flour
50 g (1/4 cup) cornflour (aka cornstarch)
75 ml (1/3 cup) vegan beer
75 ml (1/3 cup) soda water
pinch sea salt
For the mushy minted peas:
olive oil, for frying
2 shallots, finely chopped
300 g (2 cups) frozen peas
235 ml (1 cup) vegetable stock
2 tbsp fresh lemon juice
1 tbsp finely chopped fresh mint
pinch salt and pepper
Instructions
1
Preheat the oven to 180˚C (350˚F) and line a large baking tray with greaseproof paper.
2
First prepare your chips: wash and slice the potatoes into chip shapes of your choice. I like chunky chips and I also leave the skin on but it's up to you if you want to peel them or not.
3
Cover the chips with water in a large saucepan, add a pinch of salt, then place over a medium heat. Bring to the boil, boil for 2 minutes, then drain. Par-boiling the chips helps create a super-soft inside – I highly recommend doing this if you like your chips chunky.
4
Spread the par-boiled chips on the baking tray and sprinkle with the plain flour, making sure each chip is lightly covered. Drizzle over the olive oil and season with salt and pepper, then bake for around 25–30 minutes, or until golden and crispy.
5
While your chips are cooking, it's time to make the "fish" element. Pour the sunflower oil into a large saucepan set over a medium heat, or a deep-fat fryer set to 180˚C (350˚F). If using a saucepan, only half fill it to prevent it overflowing when you put the tofu in.
6
Cut the tofu block into rectangles or fillet shapes. Using scissors, cut the nori sheet into pieces the same shape and size as the tofu fillets. The nori resembles fish skin and also has a great taste-of-the sea flavour.
7
Lay the nori onto the tofu and squeeze over some of the lemon juice to help it stick. Set aside while you quickly whisk up your beer batter.
8
Combine the flours and salt in a mixing bowl, then pour in the beer and water. Mix together with a wooden spoon until it forms a thick batter. Set aside to rest for a few minutes.
9
Meanwhile, make the mushy minted peas. Sauté the shallots in a saucepan with a little olive oil, until soft. Add the peas, stock and lemon juice, and cook over a medium heat until piping hot. Use a hand stick blender to blitz until
mushy, then stir in the mint and a pinch of seasoning. Keep warm until ready to serve.
10
Combine all the ingredients for the tartare sauce in a mixing bowl, then set aside until ready to serve. At this point your oil should be hot enough to cook the tofu. You should be able to see a light haze coming off the top of the oil in the saucepan but, to be sure, drop a cube of bread into the oil – if it floats to the top quickly and turns golden, your oil is hot enough.
11
Dip each piece of nori-lined tofu into the batter individually and then lower into the oil very carefully. Cook until the batter is golden, for approximately
4 minutes, then transfer to a plate lined with kitchen paper to drain
off excess oil. Sprinkle with salt. Remove the chips from the oven,
serve with the tofu fish, mushy peas and tartare sauce.
jvs