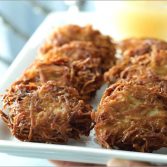 Easy potato latkes – Chanukah
Latkes are traditionally eaten during Chanukah. The oil for cooking the latkes is reminiscent of the oil that miraculously kept the Second Temple's Ner Tamid lamp lit with its continuously-burning flame.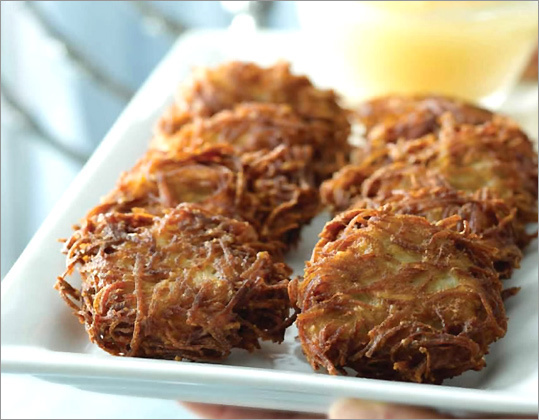 Ingredients
3 large or 4 medium-sized potatoes
1 onion
100 g normal matzo meal
50 g fine matzo meal
1 tsp salt
1 tsp course ground black pepper
vegetable oil for frying
Instructions
1
Peel the potatoes and the onion
2
Add the matzo meal so that the mixture becomes sticky but is not too runny. The texture needs to be malleable so you can form the latkes.
3
Add the salt and pepper and mix well.
4
Form the mixture into round flat latkes approximately 6 cm by 6 cm each.
5
Heat some vegetable oil in a deep frying pan. The oil should be an inch or so thick.
6
Put as many latkes as will fit in the pan and fry them on one side, on a medium heat, for approximately 5 – 7 minutes or until they are golden brown.
7
Turn each latke and fry on the other side for approximately 5 minutes until they are golden brown.
8
Remove the latkes from the pan and place in a kitchen paper-covered dish which will soak up the excess oil. This can be placed in a low oven to keep warm while the remaining latkes are cooked.
9
Add a bit more oil and cook your next batch of latkes. Repeat as necessary.
Lara Balsam