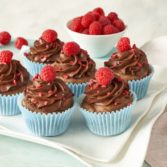 Chocolate ganache raspberry cupcakes
Today is International Chocolate Day. Perfect for weekend baking, try Flora Plant B+tter's
delicious cupcakes.
Check out the Flora 100% Natural Ingredients range of spreads and search for Flora recipes here and find out more about Flora Plant B+tter here.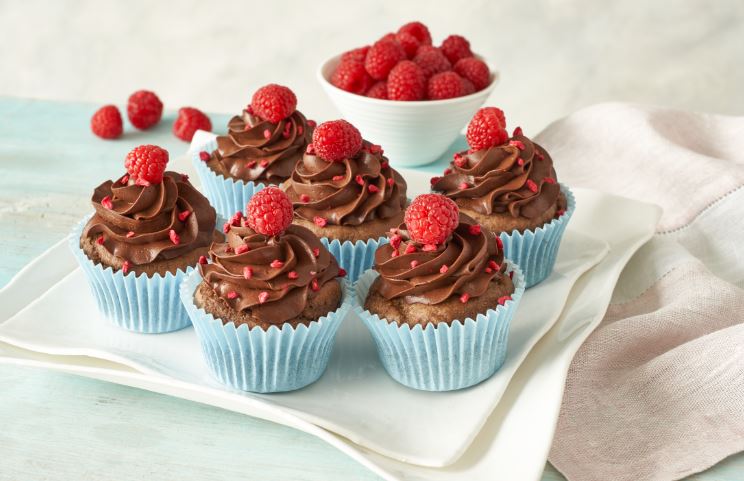 Ingredients
12 cupcake cases
165 g plain flour
3 tbsp cocoa
40 g cornflour
100 g caster sugar
2 tsp baking powder
1/2 tsp bicarbonate of soda
240 ml cider vinegar
50g Flora Plant B+tter Unsalted
240 ml almond milk
200 ml Elmlea Plant Double
150 g vegan dark chocolate
12 fresh raspberries
2 tbsp freeze dried raspberries to sprinkle
Instructions
1
In a jug, stir the cider vinegar with the almond milk and leave for 10 mins. Melt the 50 g of Flora Plant B+tter Unsalted. Combine the flour, cocoa, cornflour, sugar, baking powder and bicarbonate of soda.
2
Stir the milk mixture and Flora Plant B+tter Unsalted into the dry mix to form a batter. Do not over mix.
3
Divide the mixture into 10 – 12 cupcakes cases and bake for 20 – 25 mins at 160c fan.
5
Heat the double cream until simmering and bubbles appear at the edge of the pan.
6
Pour onto the chopped chocolate and stir until the chocolate has melted to form a smooth sauce.
7
Leave to cool in the fridge until the mixture has thickened enough to beat with an electric mixer.
8
Beat until smooth and slightly lighter in colour.
9
Place a star tube in a piping bag and pipe a swirl onto each cupcake, add a fresh raspberry and sprinkle with freeze dried raspberries.
Lara Balsam