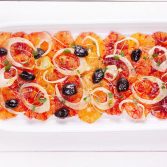 Blush orange, fennel and olive salad – for Pesach
This recipe is from the
Jewish Chronicle
.  It is Kosher for Passover.
Simple, seasonal and full of flavour, make the most of beautiful blush oranges while they're in season.
Ingredients
8 red blood oranges
1 small fennel
Handful of pitted dry black olives
Salt and freshly ground black pepper to taste
2 – 3 tbsp. good quality extra-virgin olive oil
Micro-herbs, to decorate (or tiny mint or basil leaves)
Instructions
1
Peel the oranges with a sharp knife, removing the pithy white outer membrane too. Cut each orange into 1 cm thick round slices and arrange them on each individual starter plate or in a large serving platter.
2
Finely slice the fennel and scatter it on top of the orange slices – if preparing the fennel ahead, toss the slices in lemon juice to stop browning.
3
Cut the dry pitted olives in half and sprinkle them on top.
4
Dress the salad with salt, pepper and a generous drizzle of good quality extra virgin olive oil. Sprinkle a few herbs over the top for added colour. Serve immediately.
Yael Tischler