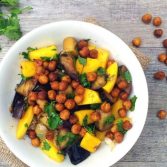 Aubergine Mango Salad with Spicy Roasted Chickpeas
This vegan aubergine (eggplant in the US) and mango salad was inspired by both Yotam Ottolenghi' s Soba noodles with aubergine and mango (from Plenty) and Smitten Kitchen's Carrot Salad With Crisped Chickpeas. Roasted chickpeas make a delicious snack on their own and add a bit of crisp (and spice) to this salad. Feel free to adjust the amount of smoked paprika to suit your taste.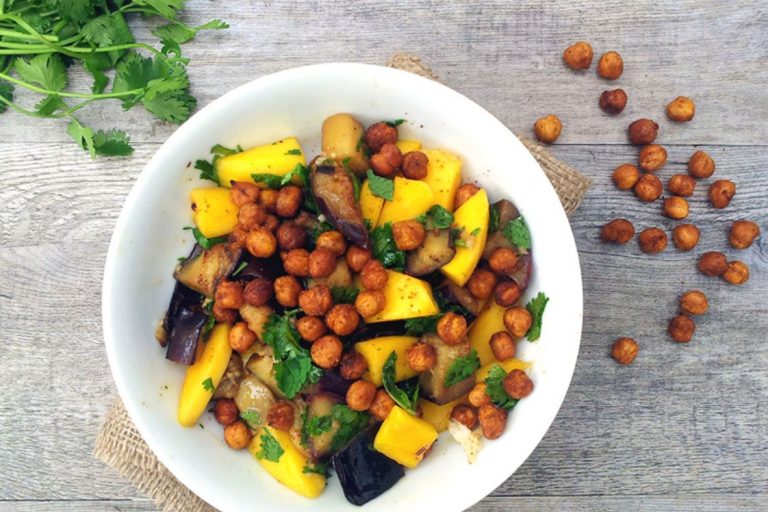 Ingredients
2 medium aubergines (eggplants)
1 large ripe mango
400 g can chickpeas [14oz]
1 tsp ground coriander
½ tsp smoked paprika
Olive oil
Juice of 1 lime
1 tsp sugar
½ tbsp apple cider vinegar
1 garlic clove (crushed)
2-3 tbsp fresh coriander leaves (finely chopped)
2-3 tbsp fresh mint leaves (finely chopped)
Salt and pepper, to taste
Instructions
1
Preheat the oven to 220C/425F/Gas 7.
2
Drain the chickpeas and pat them to dry before placing them in a roasting tin.
3
Coat the chickpeas in 2 tbsp of olive oil, 1 tsp ground coriander, ½ tsp salt and ½ tsp of smoked paprika.
4
Place in the oven for 15-25 minutes (depending on the size of the chickpeas). Toss every 10 minutes so they are evenly crisp.
5
While the chickpeas are roasting, heat some olive oil in a large frying pan. Cut aubergines in 1.5cm dice and fry them evenly.
6
Make the dressing in a separate bowl by mixing together 1 tbsp. olive oil, apple cider vinegar, sugar, lime juice and crushed garlic clove.
7
Peel and dice the mango in a salad bowl. When ready, add the aubergines to the diced mango.
8
Add the chopped fresh coriander and mint leaves followed by roasted chickpeas. Pour the salad dressing and toss everything together before seasoning with salt and pepper to taste.
jvs