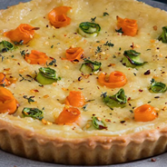 Veggie rose tart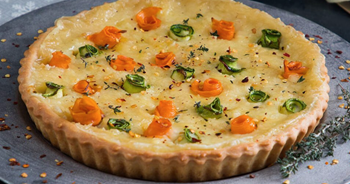 Ingredients
1 pack Violife Creamy Original
1 pack Violife Grated with Mozzarella Flavour
1 pack Violife Prosociano, grated
1 vegan short crust pastry
1 tsp ground nutmeg
2 medium courgettes
1 medium sweet potato
Fresh thyme
2 tbsp olive oil
Salt and pepper to taste
Instructions
2
Press pastry gently into the bottom and sides of a 23cm tart tin.
3
Line pastry with parchment paper and fill with ceramic pie weights or dried beans and bake in the preheated oven for about 12 minutes. Once baked, remove from oven and remove the parchment paper and pie weights and set aside to cool.
4
Mix Violife Creamy Original, Violife Grated with Mozzarella Flavour, Violife Prosociano, nutmeg, thyme, salt and pepper together in a bowl.
5
Once mixed, spoon the filling into the pie dish, on top of the baked pastry and smooth over.
6
Slice the sweet potato and courgette lengthwise into strips using a mandolin or vegetable peeler. Roll the vegetables tightly into a rose shape and arrange both vegetable roses over the filling in alternating colours.
7
Bake tart in the preheated oven until pastry is golden brown and the filling is firm, it should take about 30-40 minutes.
Lara Balsam