PRESS RELEASE 20th JANUARY 2022:
More than 100 people from across the Jewish community attended an online Tu B'Shevat event held by EcoSynagogue to examine how to drive forward action on climate change.
The meeting was addressed by rabbis and leaders from five Jewish denominations, as well as the Board of Deputies of British Jews and World Jewish Relief.
They were all responding to a study presented by the Institute for Jewish Policy Research (JPR) at the start of the evening. The research found that the great majority (92%) of Jews in the UK agree that climate change is happening and, asked to give a score out of 10 on a feeling of personal responsibility to address it, averaged 6.6.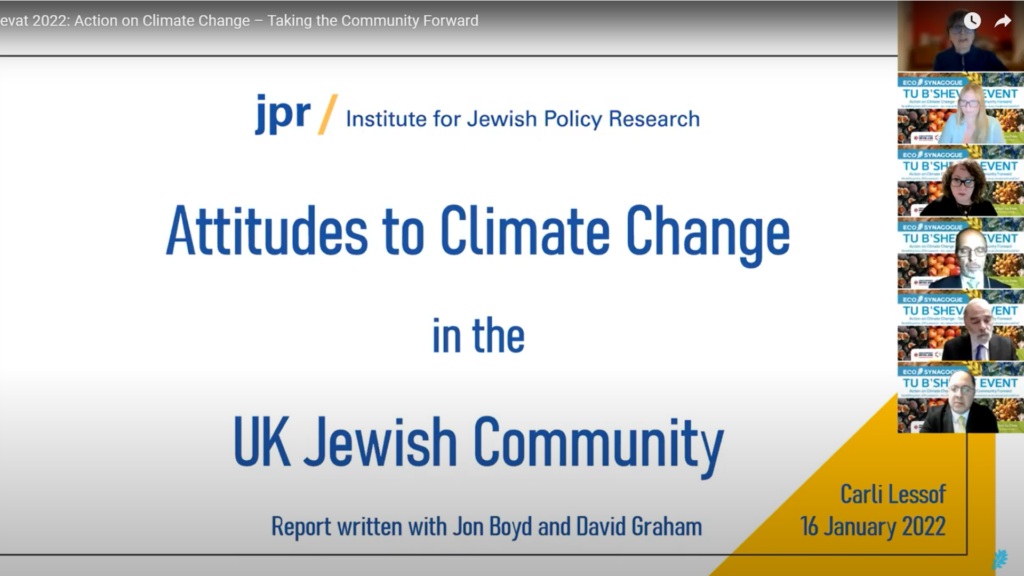 It was also announced that Rabbi Jeff Berger – representing the S&P Sephardi Community – would be joining the EcoSynagogue Rabbinic Team, which currently consists of Rabbi Jonathan Wittenberg (Masorti), Rabbi David Mason (United Synagogue), Rabbi Mark Goldsmith (Reform Judaism) and Rabbi Tanya Sakhnovich (Liberal Judaism).
Rabbi Berger said: "It is wonderful that through EcoSynagogue, we have one focus across Anglo-Jewry. By sharing ideas about best practice, we make it possible for communities large and small, affiliated and unaffiliated, as well as for each of us as individuals, to significantly mark where we are in this process and anticipate what lies ahead."The event also gave a chance to celebrate and discuss how the different movements have been developing their own campaigns for the environment, while working within the support umbrella and measurable improvement that is the EcoSynagogue project.
Last week, the United Synagogue launched its Dorot scheme, which includes plans to phase out disposables, rewild unused land, investigate their investment portfolio for ecological gains and conduct a green audit of shuls.
Rabbi David Mason was thrilled to open the Tu B'Shvat event and said that he is excited by the growth in climate protection commitment across the community. EcoSynagogue will continue to be a vanguard in pushing this critical agenda forward.
Ian Lancaster, the Movement for Reform Judaism Board member who holds its eco portfolio, told how the Movement is committed to phasing out single use plastics following a 2018 AGM resolution, while RSY Netzer (the Reform Youth Movement) is pushing them to go further.
He said: "We have commissioned our own internal audit to ensure we know where and how we can improve and to show our member synagogues how to do so. It's good to see many of our constituent synagogues are now members of EcoSynagogue, working on their own environmental audits and improved sustainability in their synagogue life."
The CEOs of Liberal Judaism, Masorti Judaism and the S&P Sephardi Community have also outlined their commitment to EcoSynagogue.
Liberal Judaism's Rabbi Charley Baginsky said: "We share the sense of urgency of our response to climate change, as well as a need to unite our efforts as one community when our house, which we all share, is 'on fire'. EcoShabbat saw 11 of our communities coming together, and many others marking it over the weekend, and we look forward to many more such moments in 2022."
Dr Matt Plen of Masorti Judaism said: "Many of our members, especially the young, are passionate about the environment. We are pleased several of our communities have joined EcoSynagogue and that our Senior Rabbi is helping guide its important work."
S&P's Ian Stewart said: "There is a keen awareness among our members on the importance of climate change. However, on an operational basis, we are just getting started. We were delighted to be invited to take a seat on the leadership panel of EcoSynagogue and look forward to formulating a more comprehensive policy in the coming months."
EcoSynagogue, a project in partnership with the Board of Deputies, is a unique initiative which spans the whole Jewish community. Its aim is to help ensure that, with careful attention to synagogue buildings and practices, the Jewish community can move towards a net zero carbon future.
For more information, please visit www.ecosynagogue.org.
Press releaee in the Jewish Chronicle: