'Are Ethical Diamonds the same or different to diamonds you see on offer by most jewellers?', we hear you ask. The truth is that they are both the same AND different. Whilst in the recent past, many companies have been promoting diamonds as 'ethical' when they are conflict-free, and/or cut and polished by adults working with fair pay and conditions, this only takes into consideration the provenance of the stone itself, disregarding the rest of the jewellery production process. However, the world has evolved and our understanding of what truly makes a diamond 'ethical' has changed.

The Ethical Diamond Company believes everyone should be able to enjoy the beauty and elegance of diamonds, in an ethically responsible, environmentally sustainable and affordable way and so places ethics and sustainability at the heart of everything they do. Whether clients choose one of the brand's timeless designs, or something bespoke of their own creation, each piece is crafted using world-class laboratory-grown diamonds, set in reclaimed metals, presented in upcycled packaging. A percentage of every sale goes towards supporting projects that empower rural communities and enhance environmental protection in mineral-rich regions of Africa vulnerable to the effects of mining.
'So if these are grown in a lab, how can these be real diamonds?', you may ask. Due to the advancement of technology over the last 30 years, humankind is able to recreate the conditions under which geological diamonds are formed – but in a much shorter time and with significantly less environmental impact. Due to less labour-intensive finishing processes, Ethical Diamonds are also much more affordable than their geological counterparts.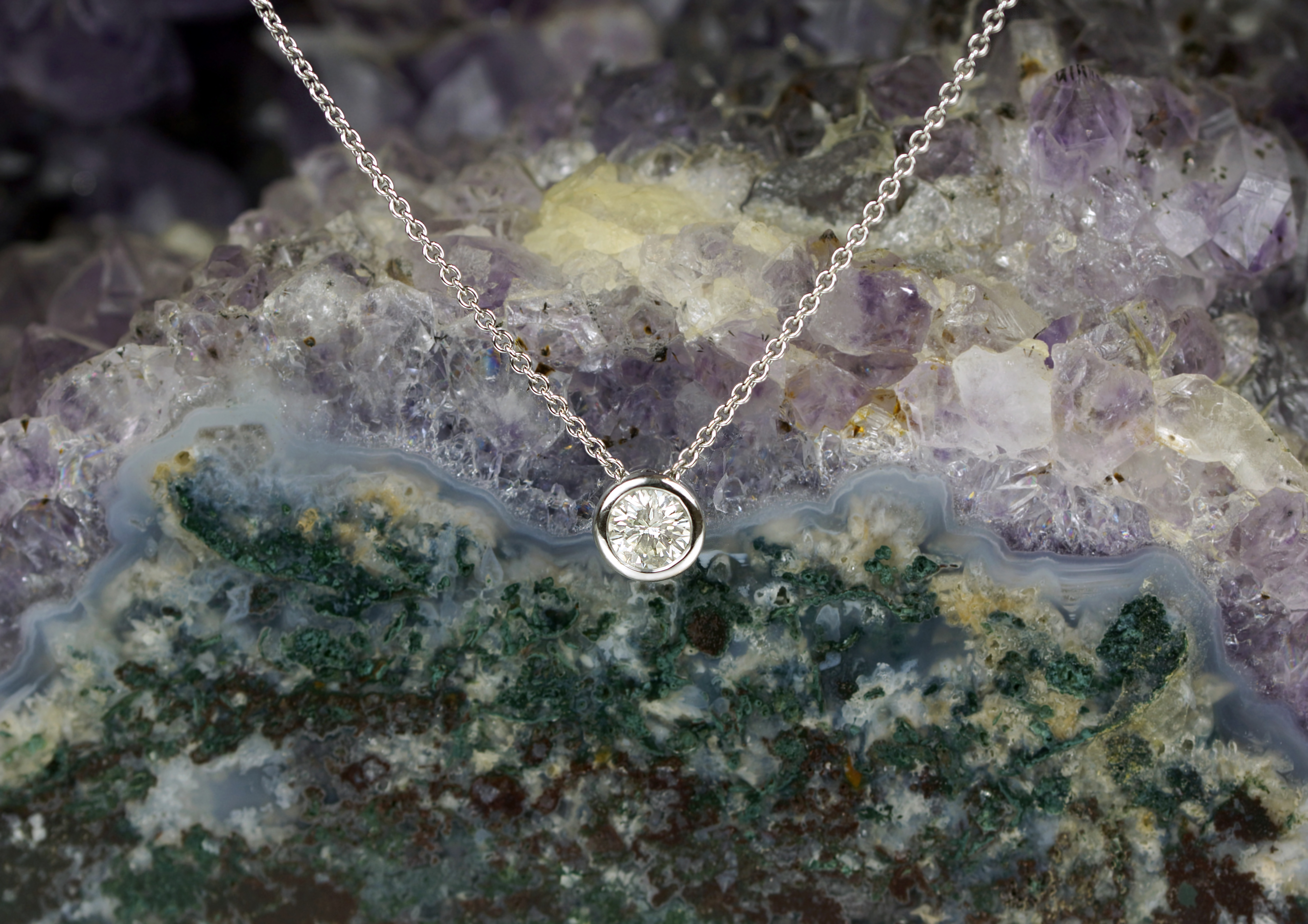 What are The Ethical Diamond Company's brand values?
Authentic: Ethical Diamonds are 100% real diamonds; they are the product of science inspired by nature.
Ethical: No people or natural resources are harmed throughout the supply chain. Each piece comes with a certificate of authenticity, verifying the provenance of its diamond/s.
Sustainable: The greatest care is given to ensure that The Ethical Diamond Company reduces the impact to both the environments and communities affected by the diamond industry:
All their diamonds are laboratory-grown, so do not deplete the world's natural resources
All the metals used in their jewellery are upcycled
All their packaging is both recycled and recyclable
Affordable: As Ethical Diamonds are grown to order, not only is there minimal wastage, but fewer resources are required to cut and polish them. This means that the average Ethical Diamond can be produced in approximately 3 months, with prices at least 30% lower than geological diamonds of the same grade.

Philanthropic: A percentage of every sale made is donated to important charities and projects that help communities in areas vulnerable to the impact of mining. Through these initiatives, the Ethical Diamond Company believe that the rest of the diamond and jewellery industry will strive to become more ethical and sustainable across the supply chain.

To launch their inaugural collection, The Ethical Diamond Company invite you to its launch reception and presentation at 6.00pm – 9.00pm on Thursday 29 November 2018 at JVS. Not only is there 10% off all purchases on the night, but one lucky person will win a £250 gift voucher to spend! Spaces are limited so please RSVP at www.ethical.diamonds or email [email protected] ASAP to secure your place.